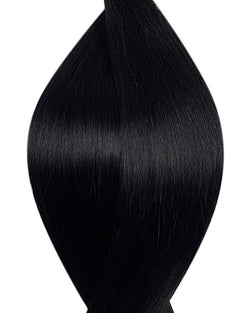 #1 Jet Black Genius Weave Hair Extensions
​
​
Unleash Your Inner Radiance with the Jet Black Genius Weave Hair Extensions
Dive into the depths of pure sophistication with our Jet Black Genius Weave Hair Extensions. These extensions, sourced from the finest natural hair, promise to redefine your presence with unparalleled finesse. Let's embark on a journey where sheer elegance meets ultimate comfort.
Jet Black Genius Weave Hair Extensions - Unravelling the Features & Benefits
Feather-light Perfection - With a mere thickness of 0.8mm and a height of 1.7mm, these extensions give you a virtually weightless sensation. Revel in the freedom that comes without the burden of weight.

Cherishing the Scalp - Say a permanent goodbye to the niggles of return hairs. Our Jet Black extensions are crafted with precision to put an end to scalp irritations, ensuring a wear that's as enjoyable as your first cup of morning tea.

Softened Edges for Undisturbed Comfort - Our emphasis on comfort is unparalleled. These extensions come with a soft edge that seamlessly aligns with your natural hairline, promising consistent comfort throughout your day.

Masterful Blending - Watch as these extensions merge flawlessly with your natural hair. The deep jet black shade enhances the mystery and allure of your locks, ensuring you become the cynosure of every gathering.
Why Jet Black Genius Weave Hair Extensions are a Game-Changer
These aren't just extensions; they are an embodiment of grace, opulence, and sheer beauty. Whether you're aiming for added volume, a dash of length, or just a tinge of experimentation, the Jet Black Genius Weave Hair Extensions stand ready to serve. Dive into the realm of impeccable beauty, and let every strand transform your appearance. Unleash the potential cocooned within your hair, and let the Jet Black shade mirror the genius inside you. Witness the confluence of charm and style, and leave an indelible mark wherever you tread. Welcome to the universe of Jet Black Genius Weave Hair Extensions - a harmonious blend of elegance and innovation.
Don't Wait, Transform Today!
In a world where first impressions matter and your hair speaks volumes about your personality, why settle for the mundane? Embrace the allure of Jet Black Genius Weave Hair Extensions. Every strand promises quality, and every turn of your head will exude confidence. As you weave through life's journey, let your hair do the talking, echoing elegance, and sophistication. Place your order and experience the metamorphosis from the ordinary to the extraordinary. Let today be the day you choose to elevate your style to unparalleled heights.
First name
Last name
Submit
Contact details
Data were successfully stored
Something went wrong, please try to store again
These fields can not be empty, must be checked, or have to be valid