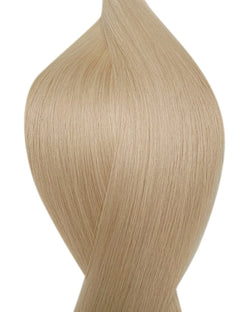 #16 Starlet Blonde Genius Weave Hair Extensions
​
​
Shine Bright with Starlet Blonde Genius Weave Hair Extensions
Unveil the luminescence of iconic blondes with our Starlet Blonde Genius Weave Hair Extensions. Precisely curated from the finest strands of natural hair, these extensions are a passport to an instant radiant transformation. Dive deep into the attributes of this unparalleled product, allowing you to tread a path of chic flair and lavish comfort.
Starlet Blonde Genius Weave Hair Extensions - Features & Distinctions
Ethereal Thinness & Lightness: Exclusively tailored for the modern woman, these extensions integrate flawlessly with your natural hair, offering both comfort and a magnificent aesthetic.

Prioritising Comfort: Say no to pesky return hairs. The Starlet Blonde Genius Weave is designed with utmost precision to ensure your scalp feels as good as your hair looks.

Artistry in Design: Our soft edge contour ensures that your natural hairline remains undisturbed, enhancing the overall look and feel.

The Starlet Blonde Difference: This isn't your regular blonde. The shade brings a multi-dimensional, shimmering hue that captivates and turns heads, celebrating the beauty of nuanced blonde tones.
Why Choose Starlet Blonde?
Beyond just being extensions, they epitomise poise, grandeur, and authentic allure. Be it a desire to infuse volume, add some inches, or merely play around with hairdos, Starlet Blonde Genius Weave Hair Extensions present the dexterity you've been seeking. Revel in the magic of sheer elegance, and watch the dramatic shift in your aura with each meticulous weave. Harness your hair's potential and let the magnificence of Starlet Blonde Genius Weave resonate. Amplify your aesthetics, bewitch onlookers, and etch an indelible mark with every hair flip. Delve into the domain of pristine beauty, letting your locks echo the innate genius that lies within.
Discover Blonde Perfection
Secure your spot in the pantheon of timeless beauty. With each strand of our Starlet Blonde Genius Weave Hair Extensions, experience the magic of unparalleled sophistication. Crafted meticulously, these extensions not only enhance your natural beauty but also empower you to make a statement, irrespective of the occasion. Indulge in this transformative experience and let the sheer brilliance of the Starlet Blonde shade accentuate every facet of your charisma. Order now and immerse yourself in the enchanting world of Starlet Blonde Genius Weave Hair Extensions, where luminance and excellence intertwine, creating a symphony of elegance.
First name
Last name
Submit
Contact details
Data were successfully stored
Something went wrong, please try to store again
These fields can not be empty, must be checked, or have to be valid