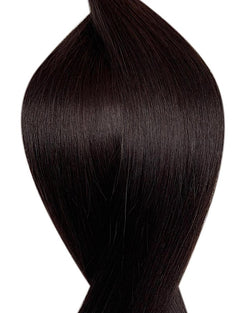 #1B Black Treacle Genius Weave Hair Extensions
​
​
Unveiling Timeless Elegance
Dive deep into a world where sophistication meets timeless beauty with the 1B Black Treacle Genius Weave Hair Extensions. Each strand captures the essence of enigmatic elegance, echoing the depth and richness reminiscent of moonlit nights and the enigma of the dark cosmos.
Features & Benefits of the 1B Black Treacle Genius Weave
Pure Comfort for the Scalp: Crafted with precision, the 1B Black Treacle Genius Weave Hair Extensions ensure no more nagging or irritating return hairs. Experience pure bliss, as the weave rests effortlessly against your scalp, providing a comfortable wear from dawn to dusk.

A Seamless Fusion: Beauty lies in details. Our extensions are not just added to your hair; they merge, creating a harmonious blend, making it indistinguishable from your natural locks.




 

The Soft-Edged Advantage: Prioritising comfort without compromising on style, our extensions come with a soft edge, tenderly aligning with your hairline, ensuring a snug yet comfortable fit all day.




 

The Enigmatic Black Treacle Shade: The depth and richness of the Black Treacle shade offers a dramatic, yet classy transformation. Perfect for those who wish to make a bold statement, this shade not only enhances but also adds an aura of mystique to your appearance.
Elevate Your Style Quotient
Venture beyond ordinary. The 1B Black Treacle Genius Weave Hair Extensions are more than a beauty accessory. They resonate with self-expression, empowerment, and a hint of audacious charm. Whether you're aiming to add a touch of volume, or simply wish to drape yourself in a shade that's as profound as your spirit, these extensions pave the way. Feel the transformative power with each strand, letting your hair become a canvas of elegance, embodying not just beauty but an attitude. Immerse yourself in the mesmerising allure of the Black Treacle and let your hair echo tales of charm, confidence, and unmatched style.
Make the Genius Choice Today!
Let your hair do more than just speak; let it sing, dance, and captivate. The 1B Black Treacle Genius Weave Hair Extensions aren't just about enhancing beauty; they are about celebrating it. Step into a world where every twist, turn, and flick of your hair leaves a mesmerising trail. Experience the magic, the allure, the genius of the 1B Black Treacle Genius Weave Hair Extensions. Where every strand tells a tale, every shade makes a statement, and every look becomes a lasting impression. Order now and let your hair narrate stories of timeless elegance and unmatched beauty.
First name
Last name
Submit
Contact details
Data were successfully stored
Something went wrong, please try to store again
These fields can not be empty, must be checked, or have to be valid