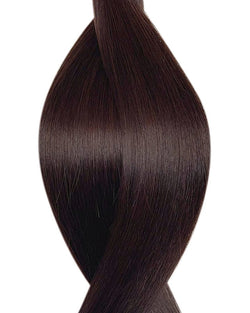 #1C Chard Earth Genius Weave Hair Extensions
​
​
Discover the Depth of Charred Earth: Genius Weave Hair Extensions
Immerse yourself in the enchanting allure of our Charred Earth Genius Weave Hair Extensions. Crafted from the most luxurious natural hair, these extensions are your ticket to a transformative experience marked by elegance and distinction. Dive deep into the myriad features and benefits of this extraordinary product, as we guide you through a journey marked by effortless sophistication and unmatched comfort.
Charred Earth Genius Weave Hair Extensions - Features & Advantages
Deeply Mesmerising: The Charred Earth hue is not just a colour; it's a statement. It adds a depth, richness, and mystery to your tresses, ensuring you captivate attention wherever you tread.

Gentle on the Scalp: Say adieu to bothersome return hairs. Charred Earth Genius Weave Hair Extensions are intricately fashioned to eradicate any scalp discomfort, paving the way for a smooth and delightful wearing experience.

Soft Edge for Unparalleled Comfort: We're all about comfort, and our extensions are no exception. Designed with a delicate edge, they meld seamlessly with your natural hairline, guaranteeing supreme comfort throughout your day.

Blend Like a Dream: These extensions promise a flawless integration with your natural hair. The deep, earthy tones of Charred Earth not only complement but also enhance your natural shade, turning heads and drawing admiring glances.
Why Opt for Charred Earth?
These aren't just extensions; they are a manifestation of style, sophistication, and sheer beauty. Be it adding volume, a touch of length, or simply a canvas for your hairstyling creativity, Charred Earth Genius Weave Hair Extensions cater to every whim and fancy. Surrender to the charm of understated elegance and witness a transformation like no other with every strand. Harness the essence of Charred Earth, elevate your style, bewitch audiences, and leave an indelible mark with every flick of your tresses. 
Enter a world of timeless grace and let your hair echo the brilliance that's innately you.
Indulge in the Charred Earth Experience
Why wait when magnificence beckons? Choose Charred Earth Genius Weave Hair Extensions today, and immerse yourself in a realm where nature's profound, earthy tones intertwine with artisan craftsmanship. Every strand encapsulates the spirit of the Charred Earth, bringing forth a rich tapestry of hues that resonate with elegance, depth, and timeless beauty. It's not merely about enhancing your look; it's about embracing a lifestyle, a statement, an experience that transcends the ordinary.
First name
Last name
Submit
Contact details
Data were successfully stored
Something went wrong, please try to store again
These fields can not be empty, must be checked, or have to be valid