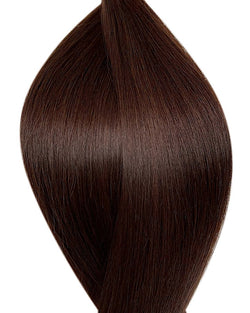 #2 Pure Cocoa Genius Weave Hair Extensions
​
​
Dive into the Allure of Pure Cocoa
Emerge in the opulence of our Pure Cocoa Genius Weave Hair Extensions. Crafted with meticulous care from select natural hair, these extensions promise to elevate your appearance with a refined touch. Delight in the exquisite features and perks of this premium product, leading you to a haven of unparalleled style and solace.
Pure Cocoa Genius Weave Hair Extensions - Distinctive Features & Benefits
Impeccably Light and Sleek: Crafted for comfort, these extensions provide a feather-light sensation, allowing for a virtually imperceptible presence once in place. Revel in the freedom of movement and the embrace of sheer confidence.
Kind to the Scalp: Say adieu to bothersome stray hairs. The Pure Cocoa Genius Weave Hair Extensions' design prioritises your comfort, eliminating potential scalp discomfort, ensuring a smooth and pleasurable experience.
Tender Edge for Prime Comfort: Recognising the essence of comfort, our extensions incorporate a delicately soft edge that compliments your genuine hairline. The result is a snug fit, offering tranquillity throughout your day.
Seamless Integration: Achieve an impeccable, organic appearance as these extensions meld flawlessly with your natural hair. The deep, rich shade of Pure Cocoa introduces a luxurious depth, drawing admiring glances in every setting.
Why is Pure Cocoa the Choice for You?
Choosing Pure Cocoa Genius Weave Hair Extensions isn't merely about selecting a product – it's about making a statement. A declaration of grace, sophistication, and inherent beauty. Whether you're aiming to boost volume, lengthen, or explore fresh hairstyles, Pure Cocoa provides the versatility you've been yearning for. Embody the essence of effortless allure, and witness the metamorphosis of your appearance with each fibre of these premium hair extensions. 
Realise your hair's potential and let the rich tones of Pure Cocoa illuminate your style. Step boldly, capture attention, and leave a lasting mark with the grace of your flowing tresses. Dive into the domain of innate sophistication, letting your hair showcase the genuine genius that lies within.
Indulge in the Pure Cocoa Phenomenon
Order now and embark on a journey with Pure Cocoa Genius Weave Hair Extensions - a symphony of beauty and unmatched craftsmanship.
First name
Last name
Submit
Contact details
Data were successfully stored
Something went wrong, please try to store again
These fields can not be empty, must be checked, or have to be valid