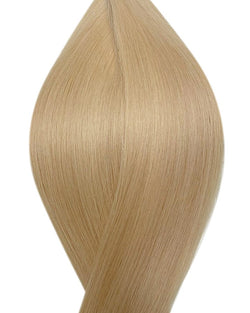 #22 Sandy Blonde Genius Weave Hair Extensions
​
​
Embrace Sun-Kissed Sophistication: Sandy Blonde Genius Weave Hair Extensions
Dive into a realm of sunlit allure with our Sandy Blonde Genius Weave Hair Extensions. Meticulously crafted from premium natural hair, these extensions encapsulate the warm radiance of sun-kissed beaches and the elegance of golden hour. Allow us to guide you through an exploration of style and comfort, epitomised in this mesmerising shade.
Sandy Blonde Genius Weave Hair Extensions - Features & Advantages
Sheer Comfort: Say a permanent farewell to the pesky nuisance of return hairs. Our Sandy Blonde extensions are a testament to innovation, ensuring zero scalp irritation for an uninterrupted, graceful experience.

Flawless Integration: Not just an extension but an amplification. These extensions intertwine seamlessly with your natural strands, promoting a harmonious blend that exudes authenticity.

Softened Peripheries: Recognizing the pivotal role of comfort, our Sandy Blonde extensions come designed with delicately soft edges, embracing your natural hairline for a snug fit that lasts all day.

The Sandy Blonde Allure: The shade itself is a masterpiece. Channelling the serene beauty of sandy shores and the warmth of golden sunsets, it enhances and illuminates, offering a balance of both vibrancy and subtlety.



Why the Sandy Blonde Genius Weave Hair Extensions?
More than just hair – these extensions are an embodiment of art, nature, and luxury. Whether it's volume, a touch of added length, or a complete transformation you're after, the versatility of the Sandy Blonde shade is unparalleled. Venture into the brilliance of natural beauty, and watch as your look transforms with each strand of these meticulously crafted extensions. The Sandy Blonde Genius Weave not only elevates your style but also becomes a conversation starter, capturing and reflecting the light in ways that leave an indelible mark on onlookers. Let your hair be more than just a feature. Let it be a statement, a testament to the brilliance of nature, and a reflection of the unique beauty within you.
Step into the Luminescence of Sandy Blonde
Sandy Blonde Genius Weave Hair Extensions are where nature's magic meets artistic innovation. Each shade, each strand, and each weave sings a song of elegance, capturing the essence of sunlit shores and golden moments.Indulge in this unique blend of warmth and style. Experience the distinct blend of serenity and sophistication that only the Sandy Blonde Genius Weave Hair Extensions can offer. Become the embodiment of sun-kissed elegance, and let the world bask in your radiant glow. Experience Sandy Blonde - where nature's brilliance and beauty converge.
First name
Last name
Submit
Contact details
Data were successfully stored
Something went wrong, please try to store again
These fields can not be empty, must be checked, or have to be valid