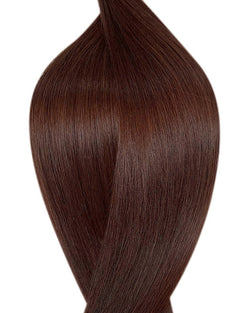 #3 Deep Chocolate Genius Weave Hair Extensions
​
​
Experience the Deep Allure of the Earth's Richness
Introduce yourself to the realm of sophistication with our Deep Chocolate Genius Weave Hair Extensions. Precision-crafted from premium natural hair, these extensions promise a transformative experience, letting you redefine elegance effortlessly. Let's journey through the mesmerising attributes of this unparalleled creation, highlighting the finesse and luxury it brings.
Deep Chocolate Genius Weave Hair Extensions - Notable Features & Merits
Astoundingly Sleek & Airy: Tailored with precision, these extensions display a notable thinness and lightness, granting an almost ethereal feeling once adorned. Embrace the liberty that comes with feeling unburdened, and move with absolute self-assuredness.

Harmonious Scalp Design: Say adios to the days of pesky, discomforting hairs. The design of our Deep Chocolate extensions places your well-being at the forefront, ensuring a harmonious, itch-free experience. 

Delicate Contour for Supreme Ease: At the heart of our creation lies the deep understanding of the essence of comfort. This insight is why our extensions boast a tender contour, aligning flawlessly with your genuine hairline, promising serenity from dawn to dusk.

Impeccable Fusion: Melding seamlessly with your own hair, these extensions provide an impeccable finish. The profound, velvety tones of Deep Chocolate enrich your mane, ensuring you remain the centre of admiration in every milieu.
Why Deep Chocolate Should Adorn You
Choosing the Deep Chocolate Genius Weave isn't just a matter of preference – it's an emblem of refined taste, opulence, and intrinsic charm. Whether it's volume, length, or a new style you seek, Deep Chocolate provides the dynamic range you desire. Embody the heart of unmatched allure, and let every strand of these refined extensions echo your transformation. Awaken the dormant potential of your hair and let the profound shades of Deep Chocolate redefine your style.  Move gracefully, enrapture onlookers, and leave an indelible mark with the flow of your enriched tresses. Venture into the world of regal beauty, with your hair echoing the intrinsic genius that you possess.
Immerse Yourself in the Deep Chocolate Odyssey
Reserve yours now and embark on an exhilarating journey with Deep Chocolate Genius Weave Hair Extensions – where elegance meets unparalleled craftsmanship.
First name
Last name
Submit
Contact details
Data were successfully stored
Something went wrong, please try to store again
These fields can not be empty, must be checked, or have to be valid