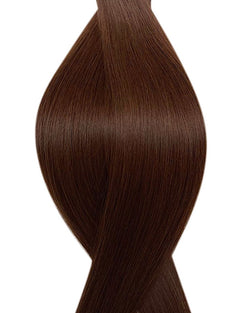 #4 Milk Chocolate Genius Weave Hair Extensions
​
​
Delve into the opulence of hair elegance with our 4 Milk Chocolate Genius Weave Hair Extensions. Richly imbued with the mesmerising hue of milk chocolate, these extensions radiate sophistication, ensuring you command attention wherever you tread.
Highlighted Features of the 4 Milk Chocolate Genius Weave Hair Extensions
Feather-light Experience: Crafted with impeccable care, these extensions promise a feeling so natural, it's as if they were always a part of you.

Friendly to Every Scalp: Tailored with precision, these extensions keep your comfort paramount, ensuring a seamless, irritation-free experience.

Flawless Integration: Designed to complement your natural hair, the lustrous chocolate shade not only enhances but elevates your entire look.

Ease of Wear: Beyond their enchanting colour, these extensions have been crafted for easy wear, promising beauty without compromise.
Why Choose the 4 Milk Chocolate Genius Weave Hair Extensions?
Choosing these extensions isn't merely about adding length or volume to your hair; it's a transformative journey. As you integrate them into your mane, you don't just change how you look; you change how you feel, how the world perceives you, and how you interact with the world around you. It's an experience of cultivating self-assuredness, of wrapping yourself in an aura of grace and poise. The distinguished milk chocolate shade is not just a colour; it's a statement. This enchanting hue, reminiscent of velvety smooth chocolates from the finest European chocolatiers, complements a myriad of skin tones. It beautifully meshes with diverse hair textures, ensuring that the extensions feel like an authentic extension of yourself. The colour adds depth, dimension, and a touch of sun-kissed radiance, conjuring images of warm autumn afternoons and cosy cafe rendezvous. When you opt for the 4 Milk Chocolate Genius Weave Hair Extensions, you're not just picking a product; you're investing in a legacy of beauty, choosing a partner that understands your quest for perfection, and aligning yourself with the epitome of hair artistry. It's about embracing an identity where every day offers an opportunity to be, undeniably and unapologetically, the best version of yourself.
Why Blend In? Stand Out with Milk Chocolate Brilliance
First name
Last name
Submit
Contact details
Data were successfully stored
Something went wrong, please try to store again
These fields can not be empty, must be checked, or have to be valid