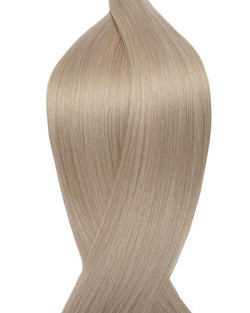 #60V Violet Blonde Genius Weave Hair Extensions
​
​
Elevate Your Style with 60V Violet Blonde Genius Weave Hair Extensions
Step into a realm of sophistication and grace with our 60V Violet Blonde Genius Weave Hair Extensions. Sourced from the finest natural hair, these extensions are set to transform your look, adding a layer of elegance and an infusion of vibrant colour. Let this product be your companion in a journey of style, comfort, and the luxurious shades of violet blonde.
60V Violet Blonde Genius Weave Hair Extensions - Features & Benefits
Elegantly Ethereal

: These extensions stand out with their unique thinness, providing a lightweight feel that seamlessly integrates with your natural locks.

Supreme Scalp Comfort

: Bid farewell to irritation. Our 60V Violet Blonde extensions are designed to perfection, ensuring a snug and seamless fit, keeping your comfort as a top priority.

Soft Edges for Easy Wear

: With a focus on day-long comfort, these extensions feature gentle edges that follow the natural curve of your hair, ensuring ease of wear from dawn to dusk.

Flawless Fusion

: The 60V Violet Blonde shade promises a perfect blend with your natural hair, taking your look to extraordinary new levels. This vibrant hue adds a touch of sophistication and a dash of grace to your tresses.
Why Choose 60V Violet Blonde?
Choosing our 60V Violet Blonde extensions is a statement of refined style, confidence, and timeless elegance. This unique shade not only enhances your natural beauty but celebrates it, allowing each strand to undergo a transformation, unveiling a style that is distinctly yours. Dive into the enchanting world of violet blonde, and let your hair tell a story of unparalleled artistry.
A Celebration of Colour
In a world where colour speaks louder than words, our 60V Violet Blonde Genius Weave Hair Extensions are a testament to the beauty of embracing vibrant hues. The violet blonde isn't just a colour; it's a lifestyle, a mood, and an expression of individuality. It represents a perfect balance, capturing the essence of life's vibrant spectrum.
Embrace the Transformation
Don't just wait for change, be the change. Indulge in the luxury and charm of the 60V Violet Blonde Genius Weave Hair Extensions, where elegance meets vibrancy, and your style becomes a true extension of your personality.
First name
Last name
Submit
Contact details
Data were successfully stored
Something went wrong, please try to store again
These fields can not be empty, must be checked, or have to be valid