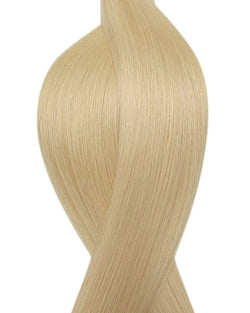 #613 Sunny Haze Genius Weave Hair Extensions
​
​
Bask in the Glow with 613 Sunny Haze Genius Weave Hair Extensions
Immerse yourself in a world of luminous charm with our 613 Sunny Haze Genius Weave Hair Extensions. Crafted from the finest natural hair, these extensions promise to utterly transform your look, wrapping you in the delicate and warm tones of sunny haze.
613 Sunny Haze Genius Weave Hair Extensions - Features & Benefits
Exquisite Lightness

: Precisely engineered, these extensions offer an ethereal lightness, ensuring they blend seamlessly with your natural tresses.

Supreme Scalp Comfort

: Bid farewell to any discomfort. Our 613 Sunny Haze extensions are meticulously designed to provide a snug fit, prioritising your comfort at every turn.

Soft Edges for Effortless Wear

: Acknowledging the importance of comfort throughout your day, these extensions boast gentle edges, working in harmony with your hair's natural flow, to guarantee ease of wear from daybreak to nightfall.

Impeccable Blend

: Our Sunny Haze Genius Weave Hair Extensions promise a flawless fusion with your own locks, instantly elevating your style. The shade of sunny haze adds a touch of warmth and subtle glamour to your hair, making every day a good hair day.
Why Choose 613 Sunny Haze?
Opting for the 613 Sunny Haze extensions is a declaration of refined taste and elegance. This particular shade doesn't just enhance; it transforms, allowing every strand to reveal a style that is uniquely you. The luminous tones interweave with your natural hair, creating a dance of light and colour that is absolutely captivating. Step into the radiant world of sunny haze, and let your hair tell its own story of beauty and grace. With each flick and wave, these extensions do not just follow trends—they set them, ensuring that you stand out in the crowd, radiant and confident.
A Homage to Warmth and Elegance
In a world full of colour, the 613 Sunny Haze Genius Weave Hair Extensions stand out as a beacon of warmth and sophistication. The sunny haze is more than just a colour; it's a statement of joy, elegance, and the many hues of happiness. It captures the golden moments of sunset and the first light of dawn, embodying the serene yet vibrant energy of life's most beautiful times. These extensions do not just add length and volume; they add a story, a chapter of elegance and warm sophistication to your personal style narrative.
Seize the Day with Style
Don't just wait for the perfect moment; create it with the 613 Sunny Haze Genius Weave Hair Extensions. Indulge in the luxury of exquisite hair, embrace the warm glow of sunny haze, and transform your style into a radiant extension of your personality.
First name
Last name
Submit
Contact details
Data were successfully stored
Something went wrong, please try to store again
These fields can not be empty, must be checked, or have to be valid