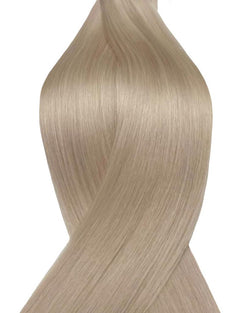 #60A Angel Blonde Tape In Hair Extensions
​
​
Description
At Viola, we offer the best tape in hair extensions in the UK, all double drawn, Remy European human hair. Starting from 12" perfect for volume to 22" mermaid tape hair extensions.
How to apply tape-in hair extensions.
Before fitting the natural hair should be washed with clarifying shampoo, to remove any build-up and oils that could affect the tape tabs. Dry the hair, take a small section of hair, remove the tape tab while having as little contact to the tape, press onto the hair, take the second tape and sandwich the natural hair between. Using the tape-in pliers to squeeze the tapes as tightly together as possible. For a whole head of tape in extensions, we would recommend 5 packs (50 pieces). 
At the maintenance, spray the tape extension remover onto the top of the tabs, wait for a moment for the solution to work its way through, start to gently peel away the tapes.
On Viola online shop you can order all the best human hair professional hair extensions as well as the essential for maintaining and caring for the extensions. 
At Viola hair extensions to guarantee the stickiness and strength of the tapes, the tape tabs are supplied separately with each pack of Tape-in Hair Extensions purchased. 
Details
WEIGHTS:  2.25g, 2.5g, 2.75g, 3g per piece
QUANTITY: 10 pieces per pack – 2.25g is 22.5g a bundle, 2.5g is 25g a bundle, 2.75g is 27.5g a bundle & 3g is 30g a bundle.
MATERIAL: 100% human hair, Remy, cuticle correct
STYLE: Straight 
Warranty
190 days quality guarantee
At Viola we offer with all professional hair extensions the longest guarantee in the UK of a huge 190 days, however, with the right care, the hair will last over a year.
Cover your hair extensions by;
Purchasing the warranty set - hair extensions shampoo, conditioner and hair extensions brush can be included in the tape in extensions cost for the application.
Aftercare advice booklet read, signed and followed very closely (added to each order of hair extensions)

Tape-in extensions are applied by a qualified hair extensionist in tape in method.

Regular maintenance is kept up to date with Viola tape tabs used.
For full details please read the terms.
Returns
If you wish to return the tape-in hair extensions for an exchange or a refund the hair must remain unused, in the original packaging and include the tape tabs sent. If the tapes are not returned with the hair the cost for the tabs will be deducted from the refund or exchange.
For full details please read the terms and conditions of the return. 
First name
Last name
Submit
Contact details
Data were successfully stored
Something went wrong, please try to store again
These fields can not be empty, must be checked, or have to be valid