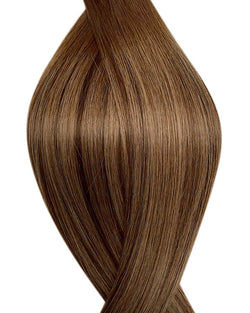 #T4P4/14 Caramel Cappuccino Tape Weft Hair Extensions
​
​
Description
Each Viola Tape Weave comes in an approx. 80cm (tape sold separately) strip that can be cut to the desired size enabling the stylist to customize the extension for a perfect fit. These are A great lightweight alternative to the conventional weave for adding length and volume.
Our new Tape Weft can be applied quickly and easily. Simply section the hair to the desired area for fitting, place the tape weft against the head and cut to the correct size. Ask your client to hold the weft in place by giving them a small section of hair at each side of the weft, this will hold the weft in place while you remove the white paper strip to reveal the tape. Using a tail comb take small clean sections of hair above the weft, then using the tail comb again press the hair against the adhesive strip. Next, simply take another strip of weft, remove the paper strip and place the adhesive side on top of the first weft to make a sandwich. Once the sandwich is made press together firmly across the weft to ensure secure fitting.
Viola Tape Wefts can be easily removed with our Tape Extension Remover Spray. Simply spray remover onto the tape tab wait and the glue will start to loosen then the weft will slide out of the hair. Next, wash the hair with Viola Clarifying Shampoo to remove any residue and dry the hair ready to re-apply the weft. The tape will need to be removed from the weft before applying the fresh tape.

Our new lightweight Tape Weave can be re-taped for multiple uses and can also be applied using beads or sewn into the hair making it a revolutionary product in the world of extensions. Viola Hair Extensions are the best quality in the UK with the longest lifespan.
Details
WEIGHTS:  50g, 55g & 60g
QUANTITY: 1 Piece per pack
MATERIAL: 100% human hair, Double drawn, Remy, cuticle correct
STYLE: Straight 
Warranty
190 Days quality guarantee
Viola hair extensions offer the longest guarantee in the UK, of 190 days. To cover your extensions under the warranty you will require the following.
Viola

 

Warranty set

 

– includes our amazing care products to ensure the extensions last, can be added to the tape extensions cost at the consultation.
Fitted by a qualified tape-in extension technician.
Aftercare

 

booklet is signed and rules are followed (sent with every hair extensions order).
Maintenance is attended

For full details on the quality guarantee please read the terms.
Returns
If you wish to return the tape weft hair extensions for an exchange or a refund the hair must remain unused and in the original packaging.

For full details please read the terms and conditions of the return. 
First name
Last name
Submit
Contact details
Data were successfully stored
Something went wrong, please try to store again
These fields can not be empty, must be checked, or have to be valid