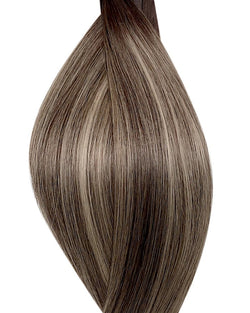 #T2P2/60B Iced Espresso Nano Ring Hair Extensions
​
​
Description
Nano tip extensions are very popular due to how being one of the most discreet extensions methods available with tiny nano ring or silicone nano rings that fit the small mental tips to the natural hair.
Viola hair extensions online shop offers the best nano hair extensions in the UK, all our professional hair extensions are made of the very best double drawn, Remy European human hair, tangle-free, smooth and glossy. Viola nano loop hair extensions are extremely luxurious, be the envy of everyone with your beautiful, long locks.
At Viola, you can buy nano ring hair extensions, the essential tools and equipment needed for fitting i.e. hair extensions nano rings, loop tool, nano pliers but also hairdressing accessories like professional scissors, sectioning clips as well as extensions hairdressing trolley to make your life easier.
Details
WEIGHTS:  0.8g and 1g strands
QUANTITY: 25 strands per pack - 0.8g is 20g a bundle & 1g is 25g a bundle.
MATERIAL: 100% human hair, Remy, cuticle correct
STYLE: Straight 
Warranty
190 Days Quality Guarantee
Viola professional hair extensions has the option to be covered by the longest guarantee in the UK.
Cover your hair extensions with the guarantee.
For more detail on the aftercare please read the terms.
First name
Last name
Submit
Contact details
Data were successfully stored
Something went wrong, please try to store again
These fields can not be empty, must be checked, or have to be valid