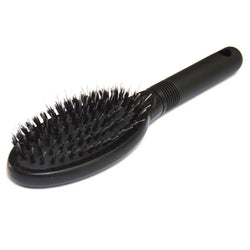 Bristle Hair Extensions Brush
​
​
Description
Viola Bristle Brush is lightweight and specially designed for hair extensions as it reduces pulling and the pressure that is put on the bonds and fitting. The bristle is the best brush for hair extensions this is due to the soft natural fibres that support and cushions the bonds.
How to correctly brush hair extensions.
To reduce the pressure put onto the bonds and to avoid pulling out the extensions and the natural hair, you should always start from the ends and work your way up detangling the hair as you go. Making sure to support the extensions by hold the hair in a ponytail as you brush. With the use of a hair extension hair brush the extensions and the natural hair will look and feel amazing.
It is vital to use the correct brush for hair extensions, as the wrong brush will pull out not only the hair extensions but also your hair.
A key feature of perfect hair extensions brushes is natural bristles, this will reduce the static generated when brushing and ensure soft padding for the bonds.
At Viola hair extensions we offer a huge range of extension brushes from large paddle bristle brush to the soft bristle brush from hair extensions as well as ceramic round brush the perfect tool for styling. All available in one place to buy and order with ease from our online shop.
Details
| | |
| --- | --- |
| SIZE | 24CM (9.5") |
| MATERIAL | PLASTIC & BOAR BRISTLE  |
For use
All hair extensions methods

First name
Last name
Submit
Contact details
Data were successfully stored
Something went wrong, please try to store again
These fields can not be empty, must be checked, or have to be valid