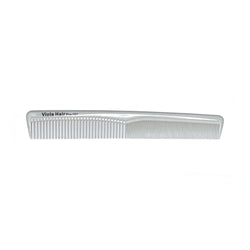 ​
​
Description
The cutting comb is one of the most important tools for every hairdresser, extensionist and stylish. Viola professional cutting comb is the perfect size for clean and precise brushing and cutting hair and extensions.
Viola cutting combs are made of thermoplastic the highest quality material for professionals, as it is not only anti-static but the combs can also withstand high temperatures. Because of this our combs glide through the hair beautifully, without creating static and can be used when styling with heat without fear of the combs melting. 
At Viola hair extensions we offer the best professional hair combs but also all the essential tools and equipment for hairdressers and extensionist whether mobile, at home or in the salon. Our online shop makes ordering simple with not only excellent products, such as the best hair extensions in the UK but with a choice of fast and tracked delivery options.
Why is it important to buy salon quality cutting combs?
When working with hair, whether you're a hairdresser, stylist, barber, extensionist etc. it is important to choose professional cutting combs. Not only do they glide through the hair and make your job easier but also looks professional and sleek.
Details 
| | |
| --- | --- |
| SIZE | 17cm (7") approx |
| MATERIAL | THERMOPLASTIC |
| QUANTITY | 1 PER PACK |
For use
Applying all hair extensions method
Styling hair
cutting hair 
Hair salon combs
First name
Last name
Submit
Contact details
Data were successfully stored
Something went wrong, please try to store again
These fields can not be empty, must be checked, or have to be valid