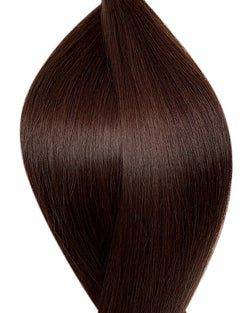 #2 Pure Cocoa Micro Ring Hair Extensions
​
​
Description
Micro ring hair extensions (I-tip) are not only an ideal method of lengthening your natural hair but can also be used just to add thickness/volume.
From our dark brown micro ring hair extensions range, Viola Hair Extensions brings you colour #2 Pure Cocoa, which is a potentially perfect match for your dark brown hair colour.
Applied to your hair with micro rings, copper tubes or shrinkies, you can get these applied close to your scalp so you can easily wear your hair up or down.
These deep, rich, dark brown micro ring extensions will add depth, dimension and delightful pure cocoa tones to your natural hair and who doesn't want that from their dark brown hair extensions?
Order your micro beads hair from our UK based online shop now.
Details
WEIGHTS: 0.8g and 1g strands
QUANTITY: 25 strands per pack - 0.8g is 20g a bundle & 1g is 25g a bundle.
MATERIAL: 100% human hair, Remy, cuticle correct
STYLE: Straight 
Warranty
Viola Hair Extensions offer 190 Days Quality Guaranteed, the longest in the UK! This is when purchased with Viola Warranty package, which has been specially designed to make sure you get the very best performance from your extensions.
It has been proven with the correct fitting, aftercare, regular maintenance and along with Violas specially formulated aftercare products, our hair will last even longer than 190 days! 360 days or more!
For more details please check the Aftercare & 190 Days Quality Guarantee terms.
First name
Last name
Submit
Contact details
Data were successfully stored
Something went wrong, please try to store again
These fields can not be empty, must be checked, or have to be valid