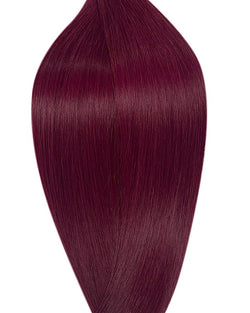 #Dark Red Ruby Scarlett Nano Ring Hair Extensions
​
​
Description 
Nano tip hair extensions are the height of luxury, can achieve the dream mermaid hair, guaranteed to be a show stopper. At Viola we have the best nano hair extensions in the UK, with the longest quality guarantee available, all our professional hair extensions are 100% Remy European, double drawn human hair.
Why choose hair extensions nano tip?
The beauty of nano loop hair extensions is how discrete they are, with the smallest beads on the market chose either hair extensions nano rings or silicone lined nano rings. Each strand has a small metal tip which fit in the tiny beads but also even after multiple maintenances will not become distorted.
Viola hair extensions online shop is the perfect place to buy nano ring hair extensions, but also able to order all the essential tools and equipment every hairdresser and extensionist needs.
Details
WEIGHTS:  0.8g strands
QUANTITY: 25 strands per pack - 0.8g is 20g a bundle 
MATERIAL: 100% human hair, Remy, cuticle correct
STYLE: Straight 
Warranty
190 Days Quality Guarantee
At Viola, we offer the longest guarantee in the UK, for all our professional hair extensions. To cover your extensions in the guarantee need to do the following;
Warranty set which includes Viola hair extensions shampoo

, 

conditioner and the best brush for hair extensions.
Fitted by a qualified hair extensionist.
Read and sign the aftercare booklet (the booklet is added to each set of extensions).
aftercare advice is closely followed.
For full details and conditions please read the terms.
First name
Last name
Submit
Contact details
Data were successfully stored
Something went wrong, please try to store again
These fields can not be empty, must be checked, or have to be valid