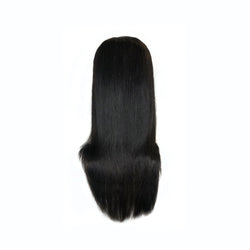 ​
​
Description 
Change your look and style instantly with a glamorous Georgia Lace Front Human Hair Wig. 
100% Human Hair the Lace Front is hand-tied for a natural look includes the baby hairs.
Combe clips and adjustable straps for easy application.
Hair extensions are a great option not only for women who are not blessed with long, thick and bushy hair but also for those who want to quickly change their image. What kind of hair is best suited for such a treatment? At a salon, where hair extensions are professionally done, an experienced hair stylist will help you choose both the method and the hair for the extension. However, it is important to know which types of hair are available on the market and what their advantages and possible disadvantages are.
Dark brown human hair wig
Choosing the right hair for your hair extensions is one of the key issues to consider before your hair thickening or hair extension treatment. If you are choosing the hair yourself, take advice from a salesperson or a friend with experience, as unfortunately, you can easily get the type of hair you are ordering wrong or even get cheated. In case you are getting your hair selected by a certified stylist or in a reputed salon, rely on the experience of the professional and get your hair selected during the consultation.
Dark brown wig real hair
What to look for when choosing the best hair for you? First and foremost, quality is what you pay for, so don't be fooled into thinking that someone is selling something cheaper that you can get a lot more money for - the low price of hair extensions should immediately set off a red light for you and at least check the comments on the internet about the company in question.
Long dark brown wig
Secondly, consider or advise your stylist on what method will work best for you. Nowadays, you can extend and thicken your hair in dozens of methods, more or less different from each other. Choosing a "cold" method, with relatively large joints, will not be a good idea for a blonde with thin, delicate hair - rather, choose one of the warm or latest, most delicate and advanced methods. On the other hand, if you have strong, thick, healthy hair, and you simply want more and longer hair, and the financial issue is important to you, there is no point in overpaying - choose, for example, microrings, or the easy-loop method.
Hair length is another issue to consider. There is no philosophy here - you choose as long hair as you want to have after the procedure - 40cm to shoulder blades, 50cm to waist, 60cm to buttocks (for someone 155-175cm tall). Just keep in mind that some hairs are layered and others are of equal length. The layered ones integrate better with your own hair without the need for your hairdresser to shade them, and the uniform length ones allow you to achieve thick hair ends at maximum length, but more often than not, using such hair means the need for shading.
Viola Hair Extensions – online shop with professional products
Always match the color in natural light to the ends of your hair, not to the roots, as you want the extensions to be indistinguishable from your own hair. Stylists use color swatches for this purpose.
The amount of hair you need is never easy to determine when you first get hair extensions. Hair is sold and put on by the grams, by the ponytails, by the strands, by the bands, by the sets, etc. Each person has a different hair density, hairline, pre-treatment length, as well as different expectations. For this reason, it is impossible to precisely determine in advance the amount of hair needed, so that the thickening or extension of hair gives a visible effect for the wearer, while maintaining a natural look. Check the best human hair wig for woman and order today!
See other products of the category: Human Hair Wigs For Women
Details
| | |
| --- | --- |
| COLOUR  | DARK BROWN - SIMILAR #1C   |
| WEIGHT | 170G APPROX |
| LENGTH | 40CM (16") |
| MATERIAL  | HUMAN HAIR REMY |
| TYPE | LACE FRONT |
| CAP SIZE | AVERAGE |
| INCLUDES | PINK WIG STAND & CARE INFORMATION |
For use 
Change your look and style instantly with a glamorous Viola Human Hair Wig.

Wigs are not included in the 190-day guarantee.
All our colours have been photographed as closely as possible but slight variations with the screen can alter the tone of the colours.
All wigs are NON returnable due to hygiene reasons. 
First name
Last name
Submit
Contact details
Data were successfully stored
Something went wrong, please try to store again
These fields can not be empty, must be checked, or have to be valid