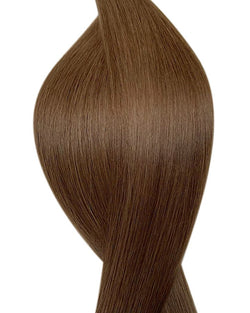 #6B Honey Walnut Nano Ring Hair Extensions
​
​
Description
Viola Nano tip extensions are extremely popular because they are discrete and with a huge range of colours, lengths and weights to choose from. The Nano loop hair extensions are perfect for if you want to add length and volume.
Tools for fitting Nano tip hair extensions
Make sure you have all the tools and equipment to fit nano tip professional hair extensions, Nano ring loop tool either the metal pro metal loop, the wooden loop tool or the flexible jewel loop tool always too sure to get the right size to fit the hair extensions nano rings.
There is a chose of either the silicone lined nano rings each bead has a silicone insert which helps protect the natural hair and the extensions metal tip or can use nano rings, the smallest beads on the market.
Of course, you need to use the right professional pliers to secure the hair extensions nano rings to the natural hair, our nano ring pliers can be used for both applying and removing the beads.
The beauty of nano hair extensions is there is no need for glue or heat to securely fit easy tip has a small metal tip that slides into the tiny beans for an incredibly discrete and natural finish.
Viola hair extensions offer the best nano hair extensions in the UK, all our hair is ethically sourced the finest Remy European human hair extensions. From Viola's online shop can order and buy nano ring hair extensions but also all the hair care products needed to ensure the hair lasts.
Details
WEIGHTS: 0.8g strands
QUANTITY: 25 strands per pack - 0.8g is 20g a bundle 
MATERIAL: 100% human hair, Remy, cuticle correct
STYLE: Straight 
Warranty
All our professional hair extensions have the option to add our 190 Days Quality Guarantee, the longest in the UK! 
To be eligible for the guarantee you just need to add Viola Warranty set includes our specially designed and tested care products that have been proved to give the extensions the best care and performance. 
When fitted by a qualified extensionist, aftercare advice closely followed (read and signed Viola aftercare booklet at the fitting), use of Viola's warranty products, along with regular maintenance, our professional hair extensions will last much longer than the guaranteed 190 days.
For further details on the 190 days' quality guarantee please read the terms. 
First name
Last name
Submit
Contact details
Data were successfully stored
Something went wrong, please try to store again
These fields can not be empty, must be checked, or have to be valid