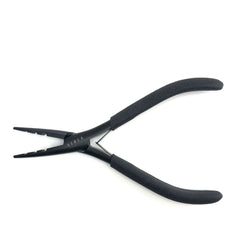 Hybrid hair extensions pliers for bonds
​
​
Description
Viola's Hybrid Nano and Micro Ring Pliers are extremely stylish, made of the highest quality stainless steel with a black non-slip grip that allows you to hold it securely and squeeze firmly every time.
Thanks to the three differently sized holes, these pliers are ideal for applying nano- and micro-rings.
Designed to allow the tightest possible application of hair extensions, these pliers are not only comfortable in the hand, but can also reduce application time thanks to the pressure that can be exerted on each bead with just one squeeze.
See other products of the category: Hair Extensions Pliers

Details
Size: 16CM (6.5")
Colour: Black
Material: Stainless Steel, Non slip grip
For use
Perfect tool for fitting:

Viola I-Tip hair extensions
Viola Nano hair extensions 
First name
Last name
Submit
Contact details
Data were successfully stored
Something went wrong, please try to store again
These fields can not be empty, must be checked, or have to be valid