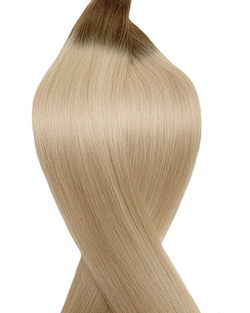 #T7/60B Iced Tea Genius Weave Hair Extensions
​
​
Step Into a World of Cool Elegance with Iced Tea Genius Weave Hair Extensions
Discover the sheer elegance and unique charm of our Iced Tea Genius Weave Hair Extensions. These premium strands are meticulously selected to transform your look with a touch of sophistication and an air of mystique, showcasing the alluring shades of iced tea.
Iced Tea Genius Weave Hair Extensions – Features & Benefits
Elegantly Light and Airy

: Precision is key, and these extensions are the epitome of finesse. Their ultra-thin design ensures a lightweight feel, providing a heavenly blend with your natural hair.

Supreme Comfort for Your Scalp

: Say goodbye to discomfort. Our Iced Tea extensions are crafted for seamless integration, guaranteeing an experience of pure comfort from root to tip.

Soft Edges for a Natural Flow

: Understanding the importance of comfort in everyday wear, these extensions boast gently crafted edges, following the natural contour of your hair for a hassle-free experience throughout the day.

Flawless Integration

: The Iced Tea Genius Weave Hair Extensions are designed to blend seamlessly with your own hair, enhancing your look with their unique hue and adding a layer of sophisticated charm.
Why Choose Iced Tea?
Embracing the Iced Tea extensions is a choice for the discerning, a nod to elegance, and a commitment to a style that is both bold and understated. This hue not only complements but enriches your natural beauty, showcasing a style that is distinctly your own. Let the sultry shades of iced tea be the story your hair tells, a narrative steeped in grace and sophistication.
A Tribute to Sophisticated Shades
In a spectrum of colours, Iced Tea Genius Weave Hair Extensions represent a haven of sophistication. Iced tea is not just a colour; it's an experience, an exploration of elegance and a journey through shades of chic sophistication. It stands as a testament to the beauty that lies in subtlety, capturing the essence of grace in every strand.
Embrace the Elegance
Don't just wear extensions; embrace a lifestyle. Immerse yourself in the world of Iced Tea Genius Weave Hair Extensions, where sophistication meets style, and your hair becomes a canvas for elegance. Let the world see your grace, narrated through the luxurious strands of iced tea.
First name
Last name
Submit
Contact details
Data were successfully stored
Something went wrong, please try to store again
These fields can not be empty, must be checked, or have to be valid