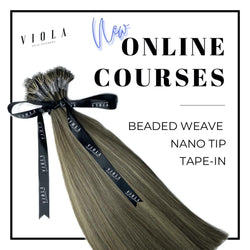 Nano Tip Hair Extension Online Course Included
​
​
Here at Viola, we are now offering the exciting opportunity to learn the Nano beads hair extensions application method from the comfort of your own environment and at your own leisure by way of online / distance learning.

Following on from the success of our Viola Academy in-house courses, where 100% of our students would recommend us, we have now created a comprehensive syllabus to go alongside our online / distance learning Nano bond hair extensions course.

As Viola Hair Extensions have been supplying high-end hair extensions since 2011 you know that you will have access to a fountain of knowledge, outstanding customer service and impeccable ongoing student support with our course in Nano Tip extensions for beginners.

We ensure that Viola Academy provides our nano ring extensions students with the insight and tools, not only to start a thriving business but go from strength to strength with Nano Tip human hair extensions application, refitting and care, which is exactly how to make Nano Tip hair extensions last.

Why choose to learn the Nano Tip hair extension method?

We supply the best Nano Tip hair extensions and these are the most popular method of hair extensions that Viola has to offer. Extremely discreet due to the tiny Nano rings which are up to 90% smaller than micro rings, as well as being perfect for mixing and blending colours together.

Included in our extensive Nano Tip hair extension training course is the hair extension method manual, multiple video tutorials, client consultation cards, aftercare advice, step by step guides, professional kits, training materials, and on completion, a hair extensions qualification and Viola discount across all our products.

All the videos and manuals will be sent direct, by email, to you, with your training tools and equipment despatched the next working day. These will be with you in the following 1 to 2 working days (depending on location and international taking longer). The Nano Tip course kit includes the training manuals, Viola hair extension window sticker, a training head, training hair, all the tools and professional equipment needed.

There are no written assignments required, just an in-depth criteria for the case study. Then there will be two tests, which all of the answers will be provided within the course material.

When you have finished and submitted your case study we will provide you with feedback. Once you are successful we will then send you your Viola Hair Extensions Certificate and set up a Trade Account for you, providing 20% discount on our products.
First name
Last name
Submit
Contact details
Data were successfully stored
Something went wrong, please try to store again
These fields can not be empty, must be checked, or have to be valid