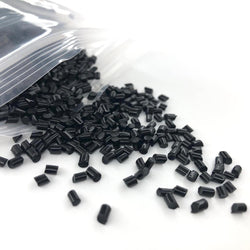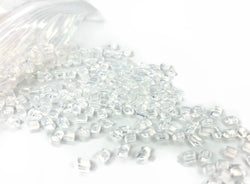 Italian Keratin Glue Grains
​
​
Description
This Italian Keratin Glue Grainsis everything you need for a seamless hair extension! Italian Keratin is the ideal bonding glue to help attach fusion hair extension onto your real hair. It's suitable for all kinds of glue-in hair extension.
Application
Italian keratin can be connected to the extensions with either heat from a heat fusion iron or with cold fusion. Viola's Ultrasonic hair extensions connector which uses sonic frequency to melt the bonds without heat. You can also use a keratin glue gun with keratin glue sticks to add keratin rebonds to hair extensions.
If you are applying any type of keratin bond hair extensions, it is important to use heat protectors and finger protectors this will help to create a clean bond whilst also avoiding hot glue coming into contact with skin.
All of Viola pre bonded human hair extensions bond tips are made of keratin. Italian keratin rebonds can be connected to Viola I-tip, Tiny tips, U-tips and flat tips hair extensions.
Our online shop sells all the essentials for applying, maintaining and removing needed for all keratin bond hair extensions. Why would you buy from any other company other than Viola Hair Extensions a leading hair extensions supplier?
Details
Size: 100Gr
Colour: Transparent, Dark Brown, Black  
For use
First name
Last name
Submit
Contact details
Data were successfully stored
Something went wrong, please try to store again
These fields can not be empty, must be checked, or have to be valid