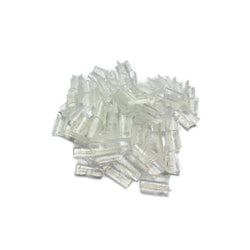 ​
​
Description
Viola Italian keratin rebonds are made of the highest quality keratin glue, the best choice for re applying pre bonded hair extensions.
Instead of buying a new set of hair extensions, you can easily refit the same hair just with new tips time and time again. This will save you hundreds if not thousands every year, all of Viola's professional hair extensions have a guarantee of 190 days and will last over a year with the right care and attention.
Application
Italian keratin can be connected to the extensions with either heat from a heat fusion iron or with cold fusion. Viola's Ultrasonic hair extensions connector which uses sonic frequency to melt the bonds without heat. You can also use a keratin glue gun with keratin glue sticks to add keratin rebonds to hair extensions.
If you are applying any type of keratin bond hair extensions, it is important to use heat protectors and finger protectors this will help to create a clean bond whilst also avoiding hot glue coming into contact with skin.
All of Viola pre bonded human hair extensions bond tips are made of keratin. Italian keratin rebonds can be connected to Viola I-tip, Tiny tips, U-tips and flat tips hair extensions.
Our online shop sells all the essentials for applying, maintaining and removing needed for all keratin bond hair extensions. Why would you buy from any other company other than Viola Hair Extensions a leading hair extensions supplier?
Details
Size: 1cm
Colour: Transparent
Quantity: 100pcs
For use
First name
Last name
Submit
Contact details
Data were successfully stored
Something went wrong, please try to store again
These fields can not be empty, must be checked, or have to be valid