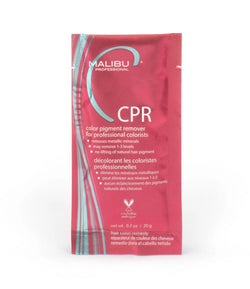 ​
​
Description
Colour will not re-darken with this antioxidant vitamin complex that removes metallic minerals which cannot be over processed and can be immediately followed with colour or bleach. Formulated without: gluten, parabens, sulphates, preservatives. Bleach formaldehyde donors and fragrance
Can't remove stubborn colour from your hair? And you don't want to bleach or dye your hair? Use Malibu C CPR as a first response to colour correction to revive your hair without any damage.

Colour pigment remover for professional colourists.
For Professional Use Only. Due to the low pH, tingling to sensitive skin might occur on clients' scalp and your hands. Shampoo from the scalp if the client is uncomfortable. Gloves may be used for application.

Benefits:
- Releases unwanted pigment from oxidised hair colour
- Removes up to 3 levels without removing the natural pigment of hair
- Preserves the integrity of the hair
- Removes mineral and other buildup from hair
Features:
- Formulated with 100% vegan, food- and pharmaceutical-grade wellness ingredients
- Ready-to-mix crystals activate on the spot for maximum potency and easy    application
- Nature-identical vitamin complex makes 4 oz. of product
- NO: bleach, sulfates, gluten, parabens, preservatives, propylene glycol, fragrance, or   formaldehyde donors
- Hermetically sealed sachet
Details
SOLD INDIVIDUALLY, 20G = ONE USE
Ingredients:
Ascorbic Acid, Bentonite, Xanthan Gum, Disodium EDTA, Polyquaternium-10, Sodium Cocoyl Isethionate, Sodium Isethionate, Sodium Gluconate
For use
Fill the applicator bottle with 4oz of water (tepid, room temperature) then slowly add the crystals. Shake to dissolve, forming a gel. Shampoo hair and rise. Work the gel into the hair desiring colour removal using maximum pressure of pa=lams and fingertips to ensure saturation. Apply a professional processing cap and expose to heat for 15-45 minutes. Remove from heat, then rinse and shampoo thoroughly 3 times (Malibu C Un-Do-Goo > pH9 shampoo is recommended) process can be repeated if desired.
Malibu C will repair, restore and rejuvenate your world class hair extensions for continued use of Viola aftercare as it is the best products for your hair extensions.
It has been specially formulated to give the finest results to your Viola hair extensions, and to ensure the 190 days' quality guarantee is upheld, the use of our shampoo and conditioner must be used.
Suitable for use with all Viola hair extensions methods
First name
Last name
Submit
Contact details
Data were successfully stored
Something went wrong, please try to store again
These fields can not be empty, must be checked, or have to be valid