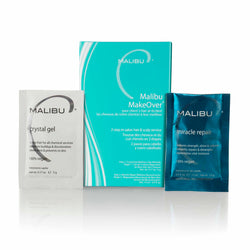 ​
​
Description
The 2-step wellness service transforms tone, texture, vibrancy and strength of hair. The Makeover kit provides dramatic results and immediate revitalization of hair and scalp that has been oxidized, damaged and/or over-processed.
CRYSTAL GEL
WHY YOU NEED IT
It primes hair with filler-like properties for superior revitalization products
Rids hair of minerals, medications and other colour-blockers
Removes discolouration resulting from build-up
Helps prevent colour fading and breakage
Prevents toner from over-depositing
Instantly normalizes pH of hair and exfoliation rate of scalp
KEY BENEFITS
100% Vegan, food-grade, wellness ingredients
Ready to mix crystals activate on the spot for maximum mega-potency and easy application
Patented, nature-identical vitamin crystals complex
Formulated without preservatives, parabens, glycol, gluten, fragrance and no sodium chloride added
Hermetically sealed eco-chic sachet
MIRACLE REPAIR WELLNESS RECONSTRUCTOR
WHY YOU NEED IT
Immediately repairs damaged hair
Rebuilds inner structure of hair
Instantly detangles and restores manageability
Hair becomes shinier, softer and full of body and bounce
Nourishes and protects every strand of hair
KEY BENEFITS
Formulated with a mega-dose of gluten-free plant proteins that penetrate deep into the hair shaft, seeking out weak spots; strengthens within, leaving hair looking and feeling more resilient.
Enriched with pro vitamin B5 that help replenish vital moisture to hair
100% vegan and formulated without parabens, and gluten
Details
| | |
| --- | --- |
| KIT INCLUDES |  1x Malibu C Crystal Gel Sachet 5g & 1x Miracle Repair Sachet 12ml |
| | |
| INGREDIENTS | CRYSTAL REMEDY - Sodium Gluconate, Ascorbic Acid, Disodium EDTA, Xanthan Gum. |
| | MIRACLE REMEDY -Water/Aqua/Eau, Linum Usitatissimum Seed Extract, Cetearyl Alcohol, Hydrolyzed Rice Protein, Butylene Glycol, Glycerin, Dimethicone, Panthenol, Cetrimonium Chloride, Polyquaternium-4, Quaternium-91, Stearamidopropyl Morpholine Lactate, Tocopheryl Acetate, Allantoin, Fragrance/Parfum, Behentrimonium Chloride, Myristyl Myristate, Limonene, Citric Acid, Guar Hydroxypropyltrimonium Chloride, Potassium Sorbate, Phenoxyethanol, Aminopropanol, Triethanol Amine, Benzyl Benzoate. |
For use
Pour crystals across wet palm. Rub hands together, adding water to dissolve crystals. Apply and scrunch throughout hair, then allow to remain on hair between to 10-45 minutes under a processing cap, applying heat.
Following Crystal Gel, apply Miracle Repair and allow to remain on hair for 3-5 minutes, then rinse. For severely damaged hair, cover hair with a Professional Processing Cap and expose to heat for 5-10 minutes, then rinse.
Malibu C will repair, restore and rejuvenate your world class hair extensions for continued use of Viola aftercare as it is the best products for your hair extensions.
It has been specially formulated to give the finest results to your Viola hair extensions, and to ensure the 190 days' quality guarantee is upheld, the use of our shampoo and conditioner must be used.
Suitable for use with all Viola hair extensions methods
First name
Last name
Submit
Contact details
Data were successfully stored
Something went wrong, please try to store again
These fields can not be empty, must be checked, or have to be valid