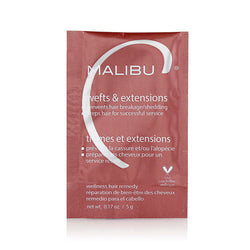 Malibu C Wefts & Extensions Wellness Hair Remedy
​
​
Description
Say goodbye to breakage, discolouration and shedding! Exclusive, nature-identical vitamin technology gently removes mineral and product build-up from natural and synthetic hair, effectively stopping oxidative damage.
WHY YOU NEED IT
Exclusive crystalised vitamin technology stops oxidative action to prevent breakage
Gently but thoroughly removes mineral and product build-up
Banishes discolouration caused by oxidized minerals, medications and other build-up blockers
Instantly renormalises chemically stressed hair extensions
Deeply penetrates to enhance moisture retention soothes dry, irritated scalp
KEY BENEFITS

Safe on all extensions and hair systems including wigs
Formulated with a patented, nature-identical vitamin C complex
100% Vegan, food-grade, wellness ingredients
Infused with a B vitamin complex plus biotin for highly therapeutic results
Free of preservatives, parabens, propylene glycol, DEA, gluten, fragrance
Hermetically sealed for maximum potency travel-friendly, eco-chic sachet
Details
| | |
| --- | --- |
| SIZE |  Sold individually - 5g = One use |
| | |
| INGREDIENTS | Glucose, Ascorbic Acid, Sodium Gluconate, Sodium Cocoyl Isethionate, Disodium EDTA, Xanthan Gum, Panthenol, Betaine. |
For use
Shampoo, rinse and pour crystals across wet palm. Rub hands together, adding water to dissolve crystals. Apply and scrunch throughout hair, then allow to remain on hair for up to 5 minutes. Rinse. Shampoo, rinse thoroughly. Apply conditioner, then rinse. 
*For damaged hair, Malibu C® Miracle Repair is recommended.
Malibu C will repair, restore and rejuvenate your world class hair extensions for continued use of Viola aftercare as it is the best products for your hair extensions.
It has been specially formulated to give the finest results to your Viola hair extensions, and to ensure the 190 days' quality guarantee is upheld, the use of our shampoo and conditioner must be used.
Our shampoo is not tested on animals.
Suitable for use with all Viola hair extensions methods
First name
Last name
Submit
Contact details
Data were successfully stored
Something went wrong, please try to store again
These fields can not be empty, must be checked, or have to be valid