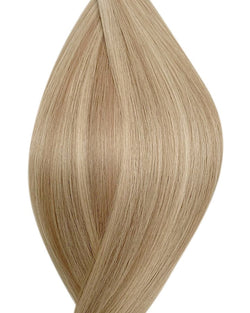 #P18/22 Malibu Sunset Genius Weave Hair Extensions
​
​
Unveil the Beauty of Malibu Sunset with Our Genius Weave Hair Extensions
Step into a realm of breathtaking beauty with our Malibu Sunset Genius Weave Hair Extensions. Meticulously crafted from the finest natural hair, these extensions are your pathway to achieving a head-turning transformation, perfectly capturing the stunning hues of a Malibu sunset.
Malibu Sunset Genius Weave Hair Extensions - Features & Benefits
Subtly Delicate and Ultra-Light

: Designed with precision, these extensions offer a feather-like touch, ensuring a seamless blend with your natural tresses.

Maximum Comfort for Your Scalp

: Say goodbye to discomfort. Our Malibu Sunset extensions are engineered for your utmost comfort, promising a smooth and enjoyable experience from start to finish.

Soft Edges for All-Day Wear

: With an understanding of the importance of comfort, these extensions feature gentle edges that naturally follow the contours of your hair, guaranteeing a graceful wear all day long.

Perfect Fusion with Natural Hair

: The Malibu Sunset Genius Weave Hair Extensions assure a flawless integration with your own hair, taking your style to extraordinary levels. The mesmerising Malibu Sunset shade adds a touch of warmth and elegance, enhancing the natural beauty of your hair.
Why Choose Malibu Sunset?
Choosing the Malibu Sunset extensions is a celebration of warmth, vibrancy, and elegance. This shade is not just about transforming your look; it's about embracing a style that is uniquely yours. Dive into the enchanting hues of Malibu Sunset, and allow your hair to unfold a story of glamour and allure.
A Homage to the Warmth of Sunset
In a world where colour plays a crucial role, the Malibu Sunset Genius Weave Hair Extensions stand tall as a tribute to the warmth and beauty of a sunset in Malibu. The Malibu Sunset is not just a colour; it's an experience, capturing the magical moments when the sun kisses the day goodbye.
Seize the Moment with Malibu Sunset
Don't just dream about beauty; embrace it with the Malibu Sunset Genius Weave Hair Extensions. Indulge in the luxury of warm hues, welcome the allure of elegance, and transform your appearance into a stunning extension of your personality.
First name
Last name
Submit
Contact details
Data were successfully stored
Something went wrong, please try to store again
These fields can not be empty, must be checked, or have to be valid