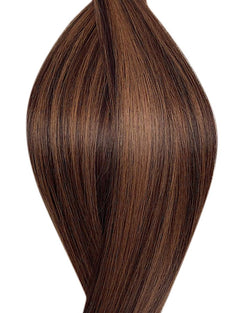 #P2/6 Marrakech Heat Seamless Clip in Hair Extensions
​
​
Description
Viola Seamless clip-in hair extensions lie flat to the head, for a smooth and secure fit. Perfect for when you have a special event or you're after something less permanent.
With 9 separate pieces, in different sizes to fit perfectly around the head along with a new clip strip allows the hair to lie flat to the head each hair held tightly in place.  
Easy to apply with strong clips, no need to fear of an embarrassing fall out.
All Viola's hair is Remy European, silky, soft human hair. Can be washed, dried, straighten and curl with ease.
Details
9 PIECES PER SET: 1x 24cm (9") with 4 clips, 2x 15cm (6") with 3 clips, 2x 10.5cm (4") with 2 clips, 2x 5.5cm (2") with 1 clip & 2x 1.5cm (1.5") with 1 clip.
MATERIAL: 100% Human hair, Remy, Cuticle Correct
LENGTH: 18" & 20" 
WEIGHT: 18" is 120g & 20" is 150g
For use 
Perfect for adding length and volume.
Not included in the 190 days quality guarantee.
First name
Last name
Submit
Contact details
Data were successfully stored
Something went wrong, please try to store again
These fields can not be empty, must be checked, or have to be valid