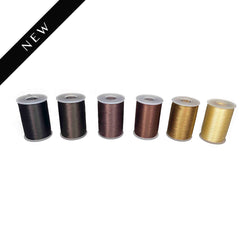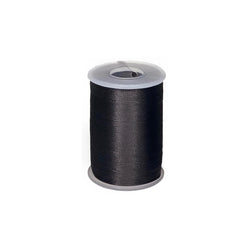 ​
​
Description
NEW
At Viola we sell the strongest weft / weave thread on the market, a mix of synthetic and cotton, the thread discrete whilst remaining extremely strong and not bulky. For Extensionist we understand that it is so important that the thread will stay in place between the application and maintenance and lasts in the hair for even longer.
Each wheel has enough weft thread to easily fit multiple client's hair extensions, with no worry of running out of thread. With six different colours to choose from to be easily hidden within the client's roots, so no one would even know they have human hair extensions.  
When would you use weft threads?
There are so many methods of professional hair extensions to choose from all require different equipment and tools to correctly fit, Viola online shop has everything you need to buy in one easy to navigate place.
The Beaded weave and secret weave are excellent methods as each uses a mixture of micro rings and weft thread to apply a weave and or a flat weft. The beauty of these is there is not need for any heat or glue to securely fit a whole head of hair extensions.
How you start applying a beaded weave is by clamping micro rings with pro curved pliers across to create clean row base, then hold the weft with metal clips on top of the beads, hair weave thread  now need to be threaded onto a C needle. Then just sew the weft with a simple blanket stitch onto the beads. Work your way up the head for a full head application. With practice it can be fitted in under an hour.
At Viola hair extensions we have a huge range of tools, beads and equipment for professionals all available from our sleek online shop. Not only do we have offer the highest quality hair extensions on the market but also our tools are of the highest standard. Buy all your professional essentials with secure payment and fast-tracked delivery service options.
Details
| | |
| --- | --- |
| QUANTITY | 1 PER PACK |
| COLOURS | BLACK, DARK BROWN, BROWN, LIGHT BROWN, GOLDEN BLONDE & BLONDE |
For use
For applying professional hair extensions both Weft or Flat Weft.
 

First name
Last name
Submit
Contact details
Data were successfully stored
Something went wrong, please try to store again
These fields can not be empty, must be checked, or have to be valid