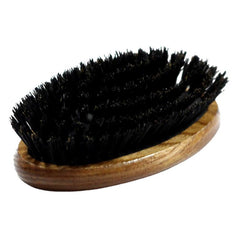 ​
​
Description
Viola Hair Extensions oval-shaped Men's Military Hairbrush has stiff wild boar bristles perfect for brushing and styling shorter hair. The boar bristles beautifully remove knots and tangles without pulling of snagging whilst drawing the natural oils along the hair to improve softness and shine.
The ideal shape to fit comfortably within the palm of your hand, to ease styling.

Why use wild boar bristles?

The wild boar bristles are an amazing material to use when creating a brush for human hair. The boar bristle fibres have a very similar makeup as human hair this dramatically reduces static and will boost the natural oils produced whilst minimising the pressure put onto the hair.
Wild boar bristle brushes are used to create the best brush for human hair. Made with the finest FSC Certified Beechwood, 100% natural organic material, with a natural rubber base and wild boar bristles.
At Viola our online shop offers the finest brushes to buy and order on the market, our Men's military brush oozes style and substance.
Details
| | |
| --- | --- |
| SIZE | 11CM (4.5") APPROX |
| MATERIAL | BEECHWOOD, WILD BOAR & RUBBER  |
For use

Suitable for all human hair types
First name
Last name
Submit
Contact details
Data were successfully stored
Something went wrong, please try to store again
These fields can not be empty, must be checked, or have to be valid