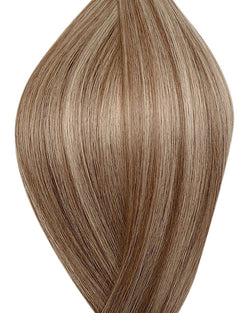 #P8/16 Sydney Dream Genius Weave Hair Extensions
​
​
Experience Unparalleled Elegance with P8/16 Sydney Dream Genius Weave Hair Extensions
Introduction Indulge in the luxury of transformation with our P8/16 Sydney Dream Genius Weave Hair Extensions. Expertly crafted from the finest natural hair, these extensions offer a journey through style and elegance, beautifully showcasing the subtle and enchanting tones of Sydney Dream.
P8/16 Sydney Dream Genius Weave Hair Extensions – Features & Benefits
Refined Thinness, Remarkably Lightweight

: These extensions are carefully designed to provide a feather-like feel, ensuring a graceful and undetectable blend with your natural hair.

Ultimate Scalp Comfort

: Say goodbye to discomfort. The Sydney Dream extensions prioritise your comfort, promising a smooth and delightful experience from morning till night.

Gentle Edges for All-Day Wear

: Understanding the importance of comfort throughout the day, our extensions feature soft edges that naturally follow the flow of your hair, ensuring hassle-free wear.

Perfect Fusion with Your Natural Hair

: The P8/16 Sydney Dream Genius Weave Hair Extensions guarantee a flawless blend with your own hair, taking your style to new heights. The gentle Sydney Dream shade adds a touch of sophistication, enhancing your hair's natural charm.
Why Choose Sydney Dream?
Opting for the Sydney Dream extensions is a celebration of subtle elegance and refined taste. This unique shade doesn't just transform; it enriches, allowing each strand to elegantly express your individual style. Dive into the enchanting hues of Sydney Dream, and let your hair unveil a story of grace and allure.
A Nod to Subtle Sophistication
In a vibrant world of colours, the P8/16 Sydney Dream Genius Weave Hair Extensions stand as a symbol of subtlety and sophistication. Sydney Dream is more than a colour; it is an emotion, a graceful whisper capturing life's serene moments and the quiet elegance of simplicity.
Embrace the Dream
Don't just dream of transformation; embody it with the P8/16 Sydney Dream Genius Weave Hair Extensions. Immerse yourself in the exquisite embrace of Sydney Dream, basking in its gentle hues that whisper tales of elegance and grace. With every strand, let the subtle sophistication of these extensions elevate your style, allowing your inner elegance to shine forth resplendently. Embrace the unique allure of Sydney Dream, and transform your look into a mesmerising display of refined beauty.
First name
Last name
Submit
Contact details
Data were successfully stored
Something went wrong, please try to store again
These fields can not be empty, must be checked, or have to be valid