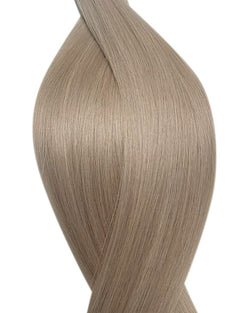 #16V Pearl Grey Genius Weave Hair Extensions
​
​
Tones with Our Pearl Grey Genius Weave Hair Extensions
Dive into a world of elegance with our Pearl Grey Genius Weave Hair Extensions. Made from the choicest natural hair, these extensions promise to metamorphose your appearance with understated sophistication. Let this product guide you through a continuum of style and unparalleled comfort, exuding the exquisite shades of pearl grey.
Pearl Grey Genius Weave Hair Extensions - Features & Advantages
Remarkably Subtle and Lightweight: Crafted with precision, these extensions are defined by their unique thinness, assuring you of an almost ethereal feel once they meld with your natural locks.

Utmost Scalp Comfort: Wave goodbye to nagging irritations. Our Pearl Grey extensions have been meticulously designed to ensure a seamless experience, placing your comfort at the forefront.

Gentle Edges for Maximum Ease: Recognising the paramount importance of everyday comfort, our extensions boast soft edges, complementing your hair's natural curve, ensuring an untroubled wear all day long.




 

Flawless Fusion: Our Pearl Grey Genius Weave Hair Extensions promise an impeccable blend with your own hair, elevating your look to new heights. The shade of pearl grey breathes life, adding an element of refined grace to your mane.
Why Does Pearl Grey Stand Out?
Opting for the Pearl Grey extensions isn't just a choice; it's a testament to a sophisticated style, an aura of self-assuredness, and a dash of classic charm. This hue not only accentuates but celebrates the natural beauty and flair every woman possesses. With every strand, you'll witness a transformation, a revelation of a style that's uniquely you. Immerse yourself in the world of pearl grey, and allow your tresses to narrate a tale of genuine artistry within.
An Ode to the Shades of Grey
In a world dominated by extremes, the Pearl Grey Genius Weave Hair Extensions stand out as a tribute to subtlety. The grey isn't just a colour; it's an emotion, a feeling, and a reflection of the soul's myriad shades. Representing the middle ground, it captures life's nuances beautifully. From the silver linings of clouds to the mystical charm of twilight, grey is everywhere, resonating with tales untold.
Seize the Opportunity!
Don't wait for magic to happen; create it. Experience the allure and charm of the Pearl Grey Genius Weave Hair Extensions - where subtlety meets brilliance, and style becomes an extension of you.
First name
Last name
Submit
Contact details
Data were successfully stored
Something went wrong, please try to store again
These fields can not be empty, must be checked, or have to be valid