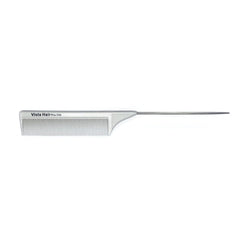 ​
​
Description
The pin tail comb is also known as the tail comb is one of the most important tools in every hairdresser arsenal. It is used creating clean sections when cutting, styling, applying and removing hair extensions. 
Viola Pin tail professional hair comb is made of the finest thermoplastic means that the comb is anti-static and glides effortlessly through the hair without the hair becoming static. Not only this the comb is strong but also resistant to very high temperature making these the perfect hair salon comb. 
Viola Hair Extensions offers a wide range of styling and hair cutting combs for hairdressers to order online, from the essential pin tail comb to the large cutting comb. Not only do we sell the best human hair extensions but also all the professional tools and equipment needed for not only extensionist but also for salons and hairdressers all available to buy from one online shop.  
Why are pin tail cutting combs for hairdressing so important when applying hair extensions?
The pin tail comb is not only used for cutting but the metal point is perfect for splitting the hair into sections ready for applying all types of hair extensions. The pin tail comb is an especially important tool when applying tape-in extensions the pin helps to apply the tabs cleanly and allowing for minimal contact with the tapes.
Details 
| | |
| --- | --- |
| SIZE | 23CM (9") APPROX  |
| MATERIAL | THERMOPLASTIC |
| QUANTITY | 1 PER PACK |
For use
Applying and removing all hair extensions method 
Styling 
Cutting hair 
First name
Last name
Submit
Contact details
Data were successfully stored
Something went wrong, please try to store again
These fields can not be empty, must be checked, or have to be valid