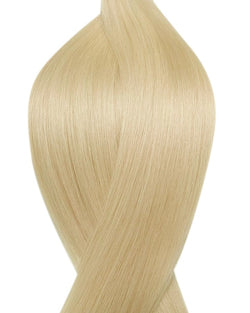 #60 Platinum Blonde Genius Weave Hair Extensions
​
​
Discover the Pinnacle of Platinum Elegance
Delve into a world of unparalleled class with our Platinum Blonde Genius Weave Hair Extensions. Crafted from the crème de la crème of natural hair, these extensions are curated to metamorphose your look into one of sheer elegance. We invite you on this odyssey of impeccable style and comfort, elucidating the remarkable features and benefits of this distinguished product.
Platinum Blonde Genius Weave Hair Extensions - Distinctive Features & Benefits
Undeniably Luxurious Feel: Experience the softness and quality like never before. Each strand mirrors the essence of luxury, presenting an elite class of hair extension.

Designed with Scalp Health in Mind: Say farewell to those bothersome hair extensions of the past. Our Platinum Blonde range prioritises your comfort, ensuring every moment feels as good as it looks.

The Gentle Touch: Every edge, every weave of our extensions is thoughtfully created to blend in harmony with your natural hair, providing a look that is both striking and natural.

The Platinum Edge: Reflecting the true spirit of its hue, the Platinum Blonde variety bestows upon its wearer an aura of sophistication and poise. The shade itself is a testament to style, setting you apart in any crowd.
Why Should These Extensions Be Your Next Style Statement?
In the ever-evolving world of fashion and style, platinum blonde has consistently remained a statement of elite taste. From the red carpets of Hollywood to the boardrooms of powerful enterprises, platinum hair has always been a subtle nod to those who are not afraid to stand out, to lead rather than follow. It's not just a shade; it's a badge of distinction. From professional settings to glamorous events, your hair will echo statements of style, luxury, and confidence. Each moment, whether captured in a photograph or reflected in the admiring eyes of onlookers, will be a testament to the powerful statement you're making. The allure of platinum blonde doesn't just lie in its radiant glow, but in the intangible charisma it imparts to its wearer. Dare to redefine your style. Let your hair not just speak, but shout volumes about your taste and personality. Embrace the allure of going beyond the ordinary, of not just fitting in but setting the trend. The Platinum Blonde Genius Weave Hair Extensions invites you to a world where beauty and luxury aren't just visual but visceral. They aren't merely a beauty accessory; they are an extension of your unique self, a reflection of your ambition, your dreams, and your aspirations. Choose Platinum Blonde and let the world see the star that you truly are.
Dive into the World of Platinum - Where Modern Elegance Meets Timeless Beauty!
First name
Last name
Submit
Contact details
Data were successfully stored
Something went wrong, please try to store again
These fields can not be empty, must be checked, or have to be valid