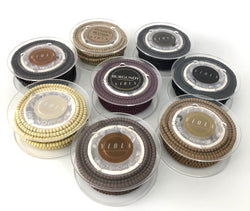 Pre-Loaded Silicone Lined Nano Rings
​
​
Description
Our unique Pre-loaded Silicone from Viola Hair Extensions are extremely comfortable and easy to use. They allow for a very quick application as they have been pre-tensioned on the wire. This allows you to simply slide the rings onto the loop tool and the loading process is complete and ready to use in moments!
What tools do you need to apply Nano tip hair extensions?
Of course, you need nano tip extension, Viola hair extensions offer the best human hair on the market with the longest guarantee in the UK. To hold the extensions to the natural hair you need the strongest and most reliable silicone lined nano beads, a nano loop tool, and to securely claim the beads into place choice of nano ring pliers of the new pro curved pliers. Don't forget a pin tail comb and sectioning clips to hold the hair up and out of the way.
At Viola Hair extensions we offer all the essential and professional equipment and tools from our online shop to easily order both the extensions and beads in one handy place.
Details
Quantity: 1000pcs
Size: 3MM approx
Metarial: Copper & Silicone
Colour: Black, Dark Brown, Brown, Light Brown, Dark Blonde, Golden Blonde, Blonde, Aubergine
For use
For faster applying Viola nano tip extension
First name
Last name
Submit
Contact details
Data were successfully stored
Something went wrong, please try to store again
These fields can not be empty, must be checked, or have to be valid