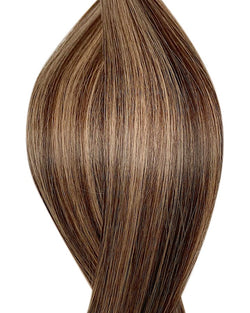 #P2/14 Rio Sunrise Nano Ring Hair Extensions
​
​
Description
Viola hair extensions offers premium professional hair extensions, perfect for adding an instant boost with either lengths from 12" to 26" and weights from 12.5g (0.5g) to 25g (1g). 
Each nano tip is made of keratin moulded into small perfectly formed bonds with a small metal tip that can be added with either silicone lined nano rings or hair extensions nano rings. Viola Nano loop hair extensions have a wide range of colours, lengths and weights available to order online. 
At Viola hair extensions online shop we offer the best nano hair extensions in the UK, with extremely secure metal bonds as well the Remy European human hair extensions that have been ethically sourced. 
Details
WEIGHTS: 0.8g &1g strands
QUANTITY: 25 strands per pack - 0.8g is 20g a bundle, 1g is 25g a bundle
MATERIAL: 100% human hair, Remy, cuticle correct
STYLE: Straight 
Warranty
At Viola Hair Extensions our professional hair extensions are made of the highest quality products by talented craftsmen this is why we offer the longest guarantee in the UK, of 190 days'.
How to make sure your hair is covered by the quality guarantee.
Hair extensions are fitted by a qualified professional.

Purchase the Viola warranty set, includes Viola hair extensions shampoo, conditioner and hair extensions brush. Our products have been formatted to leave the very best results and extend the hair extensions lifespan.

Aftercare booklet is read, understood, and signed by the client. (booklet is sent with every hair order).

The aftercare guidelines are closely followed.

Regular maintenances are carried out.
Please read the 190 days quality guarantee terms for further information.
First name
Last name
Submit
Contact details
Data were successfully stored
Something went wrong, please try to store again
These fields can not be empty, must be checked, or have to be valid