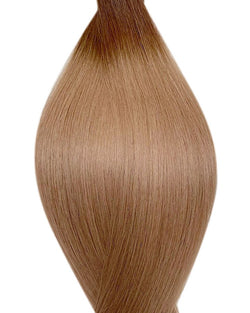 #T4/14 Mocha Latte Nano Ring Hair Extensions
​
​
Description
Viola Nano tip hair extensions each bond is made with keratin which holds the best human hair extensions, double drawn Remy European that feel and look incredible.
Our nano loop hair extensions are available in either 12.5g (0.5g) or 25g (1g) strands both perfect for adding length and volume, giving your hair an instant boost.
Tools need to apply hair extensions nano tips
Start by using a Viola colour ring to match the client's hair to our professional hair extensions, a nano loop tool choice of either pro nano loop tool, wooden nano loop or the jewel loop tool.
Choosing the right pliers for hair extensions nano rings is very important as the wrong pliers can cause the beads to chip or break. On Viola online shop the most popular pliers for nanos is either the nano ring pliers or the new pro curved pliers.
Can either use the silicone lined nano rings or the nano bond rings to securely hold the extensions into place without being noticed. Of course, you need to buy nano ring hair extensions.
At Viola hair extensions you can order not only the best nano hair extensions in the UK but also amazing hair care products that have been formatted and proven to leave the hair not only looking amazing but also extend the extensions life span.
Details
WEIGHTS: 0.8g strands
QUANTITY: 25 strands per pack - 0.8g is 20g a bundle 
MATERIAL: 100% human hair, Remy, cuticle correct
STYLE: Straight 

Warranty
190 Days Quality Guarantee
All Viola professional hair extensions can be covered by the longest guarantee in the UK.
How to cover your hair extensions?
Purchase and use the Warranty set includes Viola hair extensions shampoo, conditioner as well as hair extensions brush.
Extensions are fitted by a qualified hair extensions technician.
Aftercare booklet is read, signed and kept at fitting (booklet is sent with every set of extensions sent).
Must follow the aftercare advice very closely.
For further details please read the terms of the 190 days quality guarantee.
First name
Last name
Submit
Contact details
Data were successfully stored
Something went wrong, please try to store again
These fields can not be empty, must be checked, or have to be valid