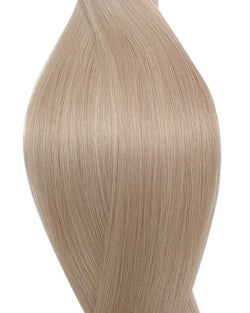 #M18/60B Scandinavian Blonde Genius Weave Hair Extensions
​
​
Dive into the Luminescence of Scandinavian Blonde Genius Weave Hair Extensions
Unveil a transformation like no other with our Scandinavian Blonde Genius Weave Hair Extensions. Handpicked from nature's finest strands, these extensions promise a breathtaking voyage into the world of style, all the while exuding the pristine allure of Scandinavian Blonde.
Scandinavian Blonde Genius Weave Hair Extensions – Features & Attributes
Feather-Light Delicacy

: Experience a seamless blend with your natural hair thanks to the meticulously crafted thinness of these extensions, ensuring they float effortlessly alongside your own tresses.

Peerless Scalp Comfort

: Step into a world where luxury meets comfort. Our Scandinavian Blonde extensions prioritise your well-being, ensuring a gentle embrace with your scalp, day in and day out.

Subtle Edges for a Natural Finish

: Designed with your daily life in mind, the extensions feature delicate edges that meld with the natural flow of your hair, facilitating a flawless wear throughout the day.

Harmonious Fusion

: Let the Scandinavian Blonde Genius Weave Hair Extensions intertwine gracefully with your own locks. The shade of Scandinavian Blonde, with its luminous appeal, adds a regal touch, amplifying the natural brilliance of your hair.
The Allure of Scandinavian Blonde
Choosing the Scandinavian Blonde extensions is akin to embracing the ethereal beauty of Nordic landscapes. This shade is not just about adding length or volume—it's about introducing an essence of serene elegance to every strand. Dive deep into the luminous allure of Scandinavian Blonde, and let your hair be the canvas of this Nordic masterpiece.
An Ode to Nordic Elegance
In our vivid world of myriad shades, the Scandinavian Blonde Genius Weave Hair Extensions shine with a unique brilliance, encapsulating the calm, tranquil beauty of Scandinavian terrains. This blonde is not merely a shade—it's a symphony, echoing the hushed lullabies of northern lights and the soft shimmer of snow-kissed landscapes.
Embark on a Nordic Journey
Do not merely wear a shade; live the Scandinavian dream. Relish the ethereal glow of Scandinavian Blonde, and let every strand narrate tales of distant fjords and midnight suns. Let the Genius Weave Hair Extensions become an integral chapter of your style story, adding depth, luminosity, and an untold elegance that resonates with the whispers of Nordic legends.
First name
Last name
Submit
Contact details
Data were successfully stored
Something went wrong, please try to store again
These fields can not be empty, must be checked, or have to be valid