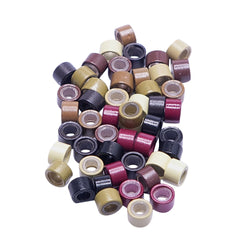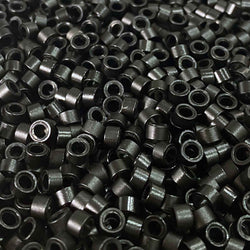 Silicone Lined Micro Rings
​
​
Description
Viola Silicone lined micro beads are incredibility versatile as they are the perfect bead for fitting lots of different methods of extensions. I-tip, tiny tip but also Beaded weave and Eaziweave.
With eight colour options to choose from black to blonde and golden blonde to burgundy, this is so the silicone micro ring can easily be hidden within the client's hair.
What are micro rings?
Silicone micro rings are small beads with 3 different sizes for fitting different types of hair extensions. 4mm is ideal for Tiny tip, 4.5mm can be used for Beaded weave and 5mm for 1g I-tips and many other sizes and methods.
Each bead has a silicone lining inside which adds a barrier between the client's hair and the bead. The silicone also adds addition grip; this is why these beads are extensionist first choice for micro ring hair extensions.
Viola Hair Extensions online shop has a huge range of beaded and fittings to order from for all methods of professional hair extensions. From silicone micro beads for hair extensions to tape tabs, our website makes it easy to find and buy all the essentials in one place. 
Details
| | | |
| --- | --- | --- |
| QUANTITY  | ALL SIZES | 100 OR 1000 |
| SIZE | 4MM | 4MM X 2MM X 3MM  |
| | 4.5MM | 4.5MM X 2.5MM X 3MM |
| | 5MM | 5MM X 3MM X 3MM |
| MATERIAL  | ALL SIZES | ALUMINIUM & SILICONE  |
SIZE - Outside Diameter X Inside Diameter X Length
For use
First name
Last name
Submit
Contact details
Data were successfully stored
Something went wrong, please try to store again
These fields can not be empty, must be checked, or have to be valid