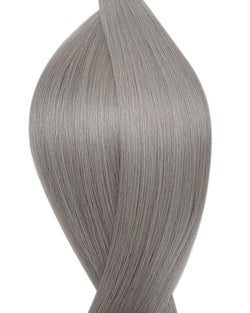 #66 Silver Fox Nano Ring Hair Extensions
​
​
Description
Nano tip extensions are the most discreet hair extensions available, with each strand has a small neat keratin tip with a thin metal thread that fits into either nano bond beads or silicone lined nano rings. 
The nano loop hair extensions start from 12" to 26" with different weights from the 12.5g (0.5g) to 25g (1g). 
At Viola hair extensions we have the best nano hair extensions in the UK, with the longest guarantee of 190 days. When you buy nano ring hair extensions don't forget to add the warranty set which includes the specially formulated shampoo, conditioner as well as the perfect hair extensions brush. 
Hair extensions nano tip need no glue or heat for an application allowing for clean application and minimal damage.
Details
WEIGHTS: 0.7g, 0.8g and 1g strands
QUANTITY: 25 strands per pack - 0.7g is 17.5g a bundle, 0.8g is 20g a bundle & 1g is 25g a bundle.
MATERIAL: 100% human hair, Remy, cuticle correct
STYLE: Straight 
Warranty
Viola professional hair extensions have 190 Days Quality Guaranteed, the longest in the UK! 
How to cover your professional hair extensions?
Purchase the Viola Warranty set that has been specially designed to make sure you get the very best performance from your extensions.

Extensions are fitted by a qualified hair extensionist.

Viola aftercare booklet is read, signed and closely followed (the booklet is included with every hair extensions order).
For more details, please check the terms. 
First name
Last name
Submit
Contact details
Data were successfully stored
Something went wrong, please try to store again
These fields can not be empty, must be checked, or have to be valid