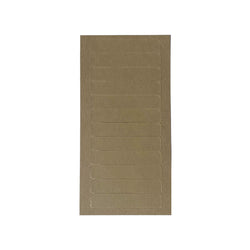 ​
​
Description
You want to offer your clients the best hair extension tape tabs on the market well look no further, at Viola we offer a huge range of tape tabs for hair extensions all in one online store. Whether you want to buy the professional hair extensions or the essential tools such as pliers, double sided tape or one-sided tape for hair extensions.
The single-sided tape is a dream come true for your clients with fine, brittle hair, or to add front extensions as it allows one tape in hair extension to be applied.
Simple application
Pin the hair out of the way using a sectioning clip.
First, install a hair extension to your client's hair using double-sided tape such as the White tape tab.
Then, remove the tape's liner, and apply Single-Sided Natural Hold so it sandwiches your client's hair between the extension and the tape.
Squeeze close using viola tape-in pliers these will seal the tapes closed.
Can be easily removed using Viola Tape Bond remover, just spray on to the tape tab, slowly peel away the tape a couple of extra sprays, brush out using a comb to remove any extra glue. Before reapplying the extensions be sure to wash all the hair with clarifying shampoo, this will remove any impurities that could cause the hair extensions to slip out.
See other products of the category: Hair Extensions Application Tools
Details
QUANTITY

 1 PACK (12 TAPES)

SIZE

4CM X 0.8CM (1.6" X 0.32")

DETAILS

Store below 32C.

Test on small area before use, keep out of reach of children, external use only, avoid eye contact.
For use
Single sided tape tabs can be used along with white tape tabs, blue tape tabs, ultra-tape tab for applying Viola Hair Extensions Tape-in and Viola Secret Tape-in Hair Extensions.
Clarifying shampoo should be used to wash the hair before fitting.
Wait at least 48 hours before washing the extensions.
Avoid applying conditioner to the roots as it can cause the tape tabs to slip.
Do not touch the tape tabs before fitting.
Store out of direct sunlight and keep in the packaging.
Can use a low heat to seal when added to the tapes.
Tapes tabs will last anything from 4-6 weeks and in some cases even longer this depends on application and care.
See other products of the category: Hair Extensions Tape Tabs
First name
Last name
Submit
Contact details
Data were successfully stored
Something went wrong, please try to store again
These fields can not be empty, must be checked, or have to be valid