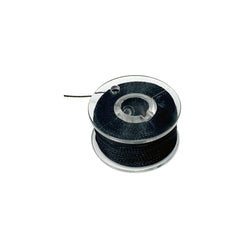 ​
​
Description
Viola weft thread is the strongest thread for weaves on the market, made of a mix of synthetic and cotton for a fine whilst still being extremely strong. At Viola we understand the importance of having a reliable thread for attaching a hair extension weft that will last weeks even months between fitting and maintenance.
If you are training or just need for a couple of fitting the small size weft thread is perfect, with a choice of seven different colours perfect to easily hide in any hair shade. The small weft thread comes on a bobbin with approximately 50 meters of thread attached, more than enough for an application.
When would you use weft threads?
There are many different methods of hair extensions application. At Viola academy we teach the Beaded weave method which is were can apply either a weft of a flat weft with the use of micro rings and weft thread. This is an amazing technique as it spreads the pressure across lots of hair which reduces the damage as well there is no need for glue or heat.
To start a beaded weave just apply micro rings along to create a clean row, then pin a weft to the top with metal clips, then thread the hair weave thread onto a C needle. With a simple blanket stitch sew the weft onto the beads. Repeat this technique up the head for a full head application.
From Viola hair extensions online shop, we offer both the traditional weft and the flat weft in a variety of lengths and colours including mixes and new rooted mixes. As well as all the equipment needed to apply a beaded weave in one place to buy.
Details 
| | |
| --- | --- |
| LENGTH | 50 METRES APPROX |
| QUANTITY | 1 PER PACK |
| COLOURS | BLACK, DARK BROWN, BROWN, LIGHT BROWN, GOLDEN BLONDE, BLONDE & BURGUNDY |
For use
Perfect for applying professional hair extensions either a Weft or Flat Weft.
First name
Last name
Submit
Contact details
Data were successfully stored
Something went wrong, please try to store again
These fields can not be empty, must be checked, or have to be valid