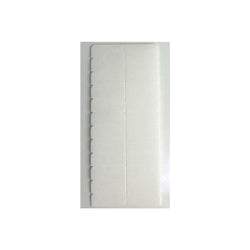 Hair Extensions White Tape Tabs
​
​
Description
Are you looking for the best hair extensions tape tabs? At Viola online shop we offer a wide range of extension tape tabs from one-sided tape to ultra hold double-sided tabs. Instead of buying new Viola Hair Extensions for each fitting just order the hair extensions tape tabs.  
Viola White Tape tabs are strong, comfortable and long-lasting. For use when reapplying Viola Tape-in extensions time and time again.
How does it work?
Each tape strip has 12 individual pieces that can peel away easily and attached to the top of the tape-in hair extensions. Be sure that the tape strip is clean without any oils to ensure for a secure fit. The next step is to section the hair out the way using Viola sectioning clips then remove the white tape and press it to against a small section on natural hair, then attach the other tape tab sandwiching the natural hair between the two pieces. Can also be sealed using low heat but this isn't always necessary.
Can be easily removed using Viola Tape Bond Remover, just spray lightly to the top of the weft tab then using a pint tail comb gently pry apart the tape tabs. Comb out any excess glue, wash the client's natural and the extensions hair with Viola clarifying shampoo.
| | | |
| --- | --- | --- |
| HOLD STRENGTH | 9 | Weakest (0) to Strongest (10) |
| REMOVAL | 7 | Highest residue (0) to Lowest residue (10) |
Details
QUANTITY

1 PACK (12 TAPES)

SIZE

4CM X 0.8CM (1.6" X 0.32")

DETAILS

Store below 32C & avoid storing in direct sunlight.

Test on a small area before use, keep out of reach of children, external use only, avoid eye contact.
For use
Viola Hair Extensions Tape-in
Viola Secret Tape-in Hair Extensions 
Always wash hair with Clarifying shampoo before fitting.
Wait 48 hours after installation before washing the hair extensions.
Do not add conditioner to the roots.
Avoid touching tape tabs before fitting.
Store tapes out of direct sunlight and in a sealed packet.
Can apply heat to the tapes during installation with a low heat hair iron.
All tapes will last for 4-6 weeks plus depending on installation and care.
See other products of the category: Hair Extensions Tape Tabs
First name
Last name
Submit
Contact details
Data were successfully stored
Something went wrong, please try to store again
These fields can not be empty, must be checked, or have to be valid