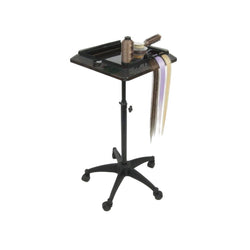 Viola Professional Hair Extensions & Colouring Trolley
​
​
Description
Viola's Professional Hair Extensions and Colouring Trolley is perfect for all your hair extensions & colouring, tools and equipment.
With all your equipment to hand you will be able to use your time more efficiently, effortlessly organise and creates a stylish and professional environment.

With Viola's new trolley you can save space and time while adding to your salon space aesthetics.

Details
Size:  41CM X 41CM X 80CM TO 110CM (16" X 16" X 32" TO 44")
For use
Perfect for use in any home or salon when apply hair extensions, colouring and or cutting.
First name
Last name
Submit
Contact details
Data were successfully stored
Something went wrong, please try to store again
These fields can not be empty, must be checked, or have to be valid