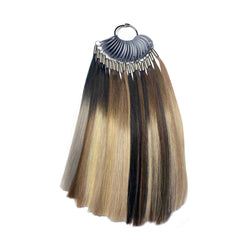 ​
​
Description
Viola Root Stretch and Rooted Mixed Colour Swatches, add to your Colour Ring to help get the perfect colour match.

Includes 24 different colours of Viola Remy European Hair.
#T1B/66
#T2/6
#T2/14
#T2/60
#T2/60B
#T4/14
#T4/22
#T7/16
#T7/60B
#T8/16
#T18/60
#T2P2/6
#T2P2/14
#T2P2/60B
#T4P4/14
#T4P4/22
#T4P4/60B
#T4P14/22
#T7P7/16
#T7M7/16V
#T7P18/22
#T8P8/16
#T8M8/60B
#T18P18/22
See other products of the category: Hair Extension Colour Ring
Details
As with all colour rings these are designed to be used as a guide and colours can vary slightly from batch to batch, we always recommend checking your hair upon arrival for slight differences.
First name
Last name
Submit
Contact details
Data were successfully stored
Something went wrong, please try to store again
These fields can not be empty, must be checked, or have to be valid