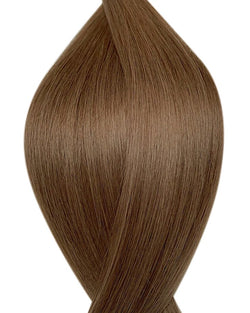 #8 Wild Truffle Genius Weave Hair Extensions
​
​
The Mystique of Wild Truffle Genius Weave Hair Extensions
Introducing the Wild Truffle Genius Weave Hair Extensions - where the profound allure of nature intertwines with sheer luxury. Just like a truffle, an earthly gem, this shade brings out the rich undertones that resonate with pure sophistication, transporting you to a realm where elegance is wild and free.
Wild Truffle Genius Weave Hair Extensions - Features & Advantages
Uncompromised Comfort: Imagine a world where every strand feels like a soft whisper against your skin. Our Wild Truffle extensions ensure just that, prioritising your comfort by eliminating the nagging sensation of return hairs.

Harmonious Blend: These extensions aren't just an add-on; they're an integration. Seamlessly merging with your natural hair, they enhance without overpowering, giving a look so natural, it's almost surreal.

Tailored for Comfort: While aesthetics are vital, comfort is paramount. Our Wild Truffle extensions come with a gentle edge that aligns gracefully with your natural hairline, promising wearability all day long.

The Wild Truffle Hue: A shade that's both rich and understated, Wild Truffle offers the perfect balance. Whether you're seeking a bold transformation or a subtle enhancement, this shade complements various skin tones, adding depth, warmth, and an undeniable allure.
Why Step into the Wild Truffle Experience?
These aren't merely extensions; they're an embodiment of grace, style, and the untamed beauty of nature. They're your ticket to a world where every hair flip makes a statement, every strand tells a tale, and every look captures a moment.  With the Wild Truffle Genius Weave Hair Extensions, it's not just about the aesthetic appeal but the emotion, the sentiment, and the essence they carry. Whether you're aiming to add drama, depth, or simply wish to embrace a shade that exudes both confidence and subtlety, Wild Truffle has got you covered. Find yourself in every strand, lose yourself in its depth, and discover a side of you waiting to be unveiled. It's more than just hair; it's a reflection of your essence, your spirit, and your wild side.
Dare to Embrace the Wild!
Wild Truffle Genius Weave Hair Extensions aren't a mere addition; they're an experience, an adventure, a journey into the wild side of elegance. Each strand, each shade, and each weave is a testament to the true genius that lies in embracing one's wild side.Dare to be different, dare to be bold, and dare to embrace the mystique of the Wild Truffle. Order today and embark on an odyssey of style, grace, and unparalleled beauty. Where every strand is a story, every hue an emotion, and every look a masterpiece. Experience the wild, the genius, the mystique of the Wild Truffle Genius Weave Hair Extensions.
First name
Last name
Submit
Contact details
Data were successfully stored
Something went wrong, please try to store again
These fields can not be empty, must be checked, or have to be valid